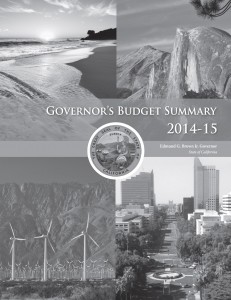 Well, we can finally stop speculating about what California's  2014-2015 budget will look like. Governor Brown introduced his 2014-2015 state budget proposal at a news conference this morning, and in all the controversy surrounding High Speed Rail, you may have missed some exciting news: As my colleague Vien Truong explained, it's a good start and our communities will be seeing some money for clean transportation, energy efficiency and clean energy, and natural resources.
The budget summary designates $200 million in proceeds from the state's cap and trade auctions to advance Low Carbon Transportation. This means that there will be money to clean up cars, trucks, and buses.  We are thrilled that elements of this proposal align with the Charge Ahead California campaign to put one million electric cars, trucks and buses on the road and make sure that every Californian enjoys the benefits of cleaner air and fuel savings.
Pollution from cars, trucks and buses fouls our air and contributes to climate change. Forty percent of Californians, more than in any other state, live close enough to a freeway or busy road to put them at increased risk of asthma, cancer, and other pollution-related illnesses. These impacts, as well as climate change itself, most severely impact low-income communities and communities of color.
In addition to disproportionate impacts on our health and well-being, our dependence on fossil fuels also hits our wallets harder each time we go to the pump.  The average American household spends $2,756 on gasoline and motor oil annually, straining family budgets and hitting lower income households especially hard. Unlike gasoline prices, which fluctuate with the global oil market, the price of electricity is stable because it is made from a diverse supply of largely domestic resources and is carefully regulated by the state's Public Utilities Commission.  If the average American household were to drive on electricity, it would save over $2,000 annually.  This means that households can keep more of their take-home pay and use it for other needs.
The Charge Ahead campaign aims to ensure that the state's investments in a modern transportation system benefit all Californians by increasing access to and affordability of new and used electric vehicles, making investments in critical charging infrastructure in low-income communities, and supporting innovative car-sharing programs. Importantly, the campaign will also focus on reducing harmful emissions from trucks, buses, and other heavy duty vehicles.
Businesses leading the charge on the electrification of the transportation sector are growing here in California, providing manufacturing jobs throughout the state.  These investments could create up to 100,000 additional jobs by 2030. Money spent charging electric vehicles stays in the economy, creating 16 times more jobs than money spent on gasoline.   All households benefit because these potential jobs are spread across California's diverse economy, largely in sectors that cannot be out-sourced, with lower and middle-income households, those most in need of the additional income, standing to benefit the most.
The move towards electrification of the transportation sector will reduce air pollution within communities of color. We're going to be working closely with legislature and the governor's administration to ensure that as the state makes critical investments in electrification, the benefits of those investments are experienced by all communities, particularly those hardest hit by pollution and poverty.