My bribes to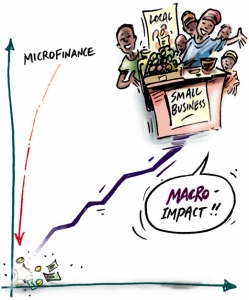 the Diversity Fairy must have finally paid off, because communities of color just gained a true champion in the federal government. Yesterday President Obama nominated Maria Contreras-Sweet to lead the Small Business Administration (SBA). I often gab about how regulators and agencies impact us and why communities of color need these entities to understand our unique experiences. But of all the regulators and all the agencies, I couldn't think of a pairing that will mean better outcomes for those who usually get forgotten inside the Beltway.
Let me start by explaining what the SBA does and its reach. In four broad strokes, the agency: 1) helps small businesses gain access to loans and capital, 2) provides training and business development, 3) sets and tracks goals for government contracting, and 4) advocates for small businesses with Congress and other regulators. That kind of support has huge impacts. A recent study revealed that over 92 percent of businesses in the US in 2011 are defined as microbusinesses (enterprises with fewer than five employees, including the owner). That accounts for 26 million direct jobs.
The health of small businesses matters everywhere, and particularly in communities of color. Minority business enterprises (MBEs) are more likely to be small, but they are also resilient. Between 2002-2007, MBEs outpaced the growth of white-owned counterparts; however, they still see fewer contracts with most large institutions and corporations and need the support of entities like SBA. When our small businesses do well, they generate wealth, create jobs, and families can live out their own version of the American Dream. Communities of color need a Small Business Administration that looks out for us and considers our experiences during policymaking.
In comes Ms. Contreras-Sweet. A first generation American and Latina from California, she knows exactly how small businesses create the American Dream for communities of color. Contreras-Sweet is the founder and executive chair of ProAmerica Bank, the first Latino-owned bank in California in the past 30 years, and has dedicated her career to empowering entrepreneurs of color. President Obama also spoke of her expertise in the public sector as Secretary of the California Business, Transportation and Housing Agency, where she focused on major job creation and public investments through infrastructure and housing. These are exactly the kinds of experiences regulators should have to inform their decisions.
So you see, not only is this going to be big for communities of color, it's going to be great for our economy. In May I wrote about the disappointing lack of diversity in President Obama's second term cabinet, and Greenlining applauds the Administration for taking an opportunity to address these disparities. With communities of color primed to become the nation's new majority by 2043, diversity will no longer be a fringe issue. Just last week, applause on Janet Yellen as the first woman to Chair the Federal Reserve dominated headlines; public calls for more representation of African American women on Saturday Night Live also made a splash. On behalf of communities of color, we fully support Maria Contreras-Sweet's nomination to head the SBA and urge the President to take advantage of his second term to continue appointing forward-thinking, diverse leaders. After all, there are plenty of us to support it.