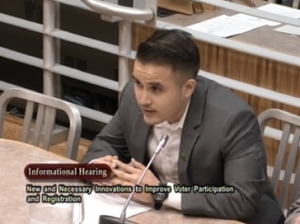 Senator Alex Padilla, who is running for California Secretary of State*, convened an informational hearing March 11 on "New and Necessary Innovations to Improve Voter Participation and Registration."
The hearing began with a presentation by Nathaniel Persily and Tammy Patrick on the work of the Presidential Commission on Election Administration, which traveled the country to identify election administration issues and best practices. They presented several findings and recommendations specifically related to voter registration, from their recent report.
When Senator Padilla asked Nate Persily to boil it down to the top two actions he would recommend California take to improve registration, Persily answered: Join the ERIC project (explained below) and reform voter registration services at the Department of Motor Vehicles to ensure there is seamless integration. Persily encouraged California to ensure that all public agencies required by the National Voter Registration Act to provide voter registration have a seamlessly integrated process for doing so, but said motor vehicles offices, being the largest of them all, would be a great place to start.
David Becker of PEW Charitable Trusts followed with more information on the ERIC Project. According to PEW, ERIC uses advanced technology to compare official data on eligible voters submitted by participating states, such as voter registration rolls and motor vehicle records as well as U.S. Postal Service addresses and Social Security death records. States then receive reports from ERIC that identify voters whose records might be out of date because voters have moved, changed their names, or died. ERIC can also identify potentially eligible citizens who are not registered to vote, but does not automatically add or remove anyone from the voter rolls. It remains up to the elections official to take appropriate action. Judd Choate of Colorado said their state would never have joined ERIC if it automatically removed voters from the rolls. Rather, ERIC allows states to better target their registration and outreach efforts to voters to maintain accurate and up-to-date voter rolls.
As one could expect, these recommendations were met with some concerns from other presenters about how best to balance new technology with security.
California Secretary of State Debra Bowen said getting Covered California, the state's new health exchange, to fully implement voter registration services is the single best thing we could do for registration. She noted that the demographics of the population served by Covered California  exactly match the population that is underregistered – low and moderate income people of color. We agree this would be major. Check out my previous post here.
Moving away from registration to other ways to increase participation, Alberto Avalos, policy fellow at The Greenlining Institute, and Jennifer Pae, project manager for the League of Women Voters of California, testified about the importance of improving voter information for the everyday citizen. Today's information culture is increasingly visual and places importance on brevity (think 140 characters on Twitter).  As such, our eyes naturally fall to certain places on a page.
Today's voter information guides haven't kept up. Voters we spoke to found the guides to be "too complex," "confusing" and written in legalese.  Avalos shared that some sections of the voter guide are written in 14th or 16th grade reading level (using the Flesch-Kincaid scale), which is college level.  This could be intimidating for voters, especially lower income voters and voters of color who are less likely to have a college degree. In fact, Avalos shared that a recent study on the effects of readability on voting found that, of more than 1,000 ballot measures analyzed, the higher the reading grade level, the less likely citizens were to vote on the issue, regardless of the topic.
Avalos said voting shouldn't feel like a test and said, "We have to stop thinking that as long as all the information required by law appears on the page, the job is done, because how it appears is just as important." Avalos called for plain language materials and better information design.
Jennifer Pae shared that the League of Women Voters of California is currently conducting additional research on the topic and plans to release a best practices manual for improving voter information within the next year.
All in all, the hearing showcased many notable faces and was packed with information. We can only hope the next Secretary of State is watching and thinking about how they will put some of these recommendations into practice to increase participation in California elections.
To join the conversations on Twitter, use #myvotemySOS and #CASOSrace.
*Other candidates running for California Secretary of State include: David Curtis, Derek Cressman, Pete Peterson, Dan Schnur, and Leland Yee.