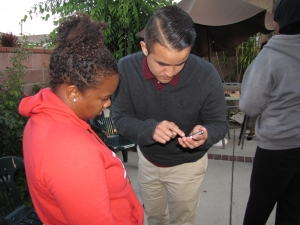 Earlier this week, we convened a community conversation with formerly incarcerated communities in Los Angeles County. We wanted to learn what they know about California elections and the voting process, what they like about the process, and what they wish to change about the process. It's our hope that by taking what we learn from these conversations and sharing it with election officials and policymakers, we can increase access to our democracy and turnout in underserved communities.
One of the biggest issues in formerly incarcerated communities when it comes to voting rights, seems to be that few know they have the right to vote. Over a year ago, I testified on behalf of Assembly Bill 149 (Weber) that would have required the Department of Corrections to notify inmates and former felons of their right to vote as they become eligible, and to provide them with a voter registration card and the current guide to voting rights for inmates and former felons.  After significant lobbying by all sides, the final bill was watered down to only require probation offices to post a notice in their office or on their website with information about how to obtain voting rights information for former felons. You might be thinking, "How useful is that?" That's what we wanted to know, too. Did Assembly Bill 149, in its final form, have a significant impact on notifying people about their right to vote?
Based on our conversation in Los Angeles, the answer is no. At least half of the participants we spoke to were still confused about whether they had the right to vote, or wrongly believed that they did not have the right to vote. Luckily we were able to clear things up and let them know they could vote. We even registered a new voter before we left, using a mobile phone and the new online registration website www.registertovote.ca.gov. (Thank you California Common Cause for sponsoring the bill to create online voter registration in California!) It's moments like this one that are bittersweet for me though.
On the one hand, I felt very good about being able to register a young person who sincerely thought she would never be able to vote again and felt very bad about it because, in her words, "women fought so hard for the right to vote" and she thought she blew it. Watching the empowerment creep into her face as she became aware of her rights and got registered to vote was priceless. At the same time, it angers me that so many eligible voters remain locked out of our democracy because they believe, or were wrongly told by enforcement officers, that they are not allowed to vote.
We have to do more to make sure that every eligible citizen is informed of their rights and empowered to exercise them. Assembly Bill 149 was a small, but insufficient step. We can and must do better. To learn more about who is eligible to vote in California, access the ACLU's resources here.
This community conversation was the second convening in a series of 10 that will be held between now and the November 2014 election. These events are sponsored by the James Irvine Foundation and are a project of the Future of California Elections Collaborative. We expect to release a full report of findings in early 2015.