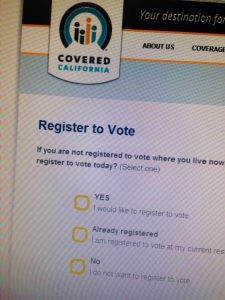 That's right! After months of advocacy, the state's health insurance marketplace, Covered California, will finally offer voter registration services.
You may have heard that Covered California has a legal obligation to provide voter registration services per the National Voter Registration Act (NVRA). You might have also heard that the staff claimed they would not be able to address this responsibility until the next enrollment period. I wrote in a previous blog post that this drew serious criticism by several advocacy groups. Waiting would mean a HUGE missed opportunity to register millions of people, mostly people of color, applying for health coverage during the initial enrollment period.
So The Greenlining Institute, California Calls, the California Voter Foundation, and other advocates formed a coalition to urge Covered California to do a direct mailing to everyone they missed, and offer them an opportunity to register to vote – AND WE WON! Covered California staff made a commitment in February that they would do a mailing for people applying during the first enrollment period, well in advance of the June primary election.
But we don't deserve all the credit. The ACLU, Project Vote, and Demos threatened legal action on March 5, which sped things up and got Covered California to do much more than they planned to do initially. For example, the remedial mailing will now go to all Medi-Cal applicants who applied using Covered California, bringing the total number of people reached by the mailing to roughly 4 million! And in a settlement reached on March 20, Covered California committed to implement a fully-compliant voter registration program before the next enrollment period. Read the settlement for details.
The mailing, which began March 19th, will include a cover letter and a voter registration card addressed to each household where one or more individuals enrolled in healthcare through Covered California. The cover letter will include instructions for how to register additional people online and provide a number they can call to order additional forms.
Covered California will mail information to households in up to 13 languages, based on the language preference indicated when they applied for health insurance. The 13 languages include English, Spanish, Chinese, Khmer, Korean, Vietnamese, Tagalog, Arabic, Armenian, Farsi, Hmong, Lao, and Russian. We are confident that if we had we not been at the table, this opportunity would not reach the hundreds of thousands of people who applied and are limited-English proficient.
We are happy that Covered California is finally doing the right thing and not letting technology and other challenges interfere with an opportunity to register hundreds of thousands of people. A direct mailing is a strong way to reach the overwhelming majority of potential voters they would have otherwise missed.
Covered California will be required to implement a permanent solution that integrates voter registration into its online, paper-based, and phone application systems, before the next enrollment period. This should be integrated for all 13 threshold languages in which they provide applications, and ensure that EVERY applicant is offered the chance to register to vote when they apply for coverage, renew their services, and update their address.
So, if you're already applied, look out for your registration card in the mail. And don't forget, if you haven't gotten covered, #GetCovered today! You have until March 31st to enroll in health coverage at www.CoveredCA.com