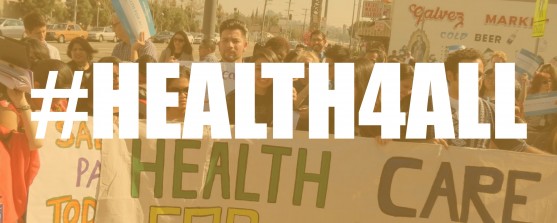 The Thanksgiving holiday comes at an interesting time – to say the least – for immigration reform and health advocates, especially in California. After months of posturing, it seems like President Obama finally got the memo. The President's recent executive order (issued on Friday, November 20, 2014) represented an opportunity for relief for millions of undocumented immigrants. For instance, these executive actions expanded the eligible population for the Deferred Action for Childhood Arrivals (DACA) program by allowing the parents of U.S. citizens and lawful permanent residents to request deferred action and employment authorization.
For health care advocates, discussions around the implications for Medi-Cal eligibility began almost immediately. Many expect undocumented immigrants in California who are affected by the President's action to also be eligible for Medi-Cal. This is an exciting prospect, especially given the growing momentum behind the Health4All campaign. Alleviating, or at least deferring, the fear of deportation for mixed-status families will also encourage legal residents to sign up for coverage through Covered California. In the midst of open enrollment, this announcement could potentially boost the number of participants in health benefit exchanges across the country.
However, our collective hope and optimism must be tempered by the uneasy reality that these reforms are temporary. These directives can be altered or undone, either by an act of Congress or by the next president. The backlash began almost immediately. Congressional Republicans have already mounted an assault on this action, even going so far as to threaten another government shutdown. Where Washington is paralyzed by partisan political gridlock, California must fill the leadership gap. And there's still a lot more work to do.
Despite the millions newly eligible for health coverage and other vital resources, millions still remain in the shadows. Undocumented immigrants without family members who are citizens or lawful permanent residents still live without relief. For the past several months, Californians have come together to acknowledge that providing resources for our undocumented neighbors to live healthy, thriving lives is in the best interest of us all. This is why that we need to capitalize on the excitement of the President's actions and pass Health4All.
When the legislature reconvenes in January, California will once again have the chance to set the tone for the rest of the country to follow. Health4All will be up for debate once again, and legislators will undoubtedly hear from advocates and activists across the state. The Greenlining Institute, along with our partners and coalition members, will be leading the charge to enact this legislation, and we hope others join us as well.
We can only be healthy when we can all be healthy. Realizing this vision will take action from the local, state, and federal governments, along with stakeholders that serve our communities. Societies are defined by how well they treat their most underserved members. This holiday season, I hope we can all reflect on the needs of the undocumented community. Only by ensuring their well-being, can we truly embody what this season means to us all.