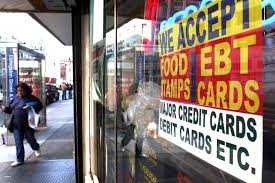 Here's a quick question: When an inmate has completed his or her sentence and is released from prison, which would you rather they do?
a)      Get training and a job, becoming part of the legal economy, or
b)      Return to crime, because all legal options have been made impossible or close to it
If you chose a), you might be surprised to know that California law now favors choice b).  Our state blocks the formerly incarcerated from accessing the help and services they need to earn a living legally. It's time for that to change.
Last week The Greenlining Institute joined 75 other organizations in asking California's governor and state legislative leaders to end the lifetime ban for the formerly incarcerated to access employment training and retention services, food stamps, and child care services.  California currently ranks 2nd highest in the country in recidivism rates because of the barriers to re-entry the state has created—including not allowing those who have had a brush with the criminal justice system to access much needed basic needs assistance, employment training, and work supports like childcare—all of which can decrease the likelihood of recidivism.
In a letter drafted by the Western Center on Law and Poverty, our organizations highlighted the fact that beyond being able to reduce our state's prison population (an issue that continues to plague California), repealing the lifetime bans would provide the state access to millions in federal funds that we are currently leaving on the table. Our top leaders are currently developing a plan to reduce California's prison population and we have called on them to endorse a policy solution known to reduce crime and reduce recidivism in our communities. Ending the lifetime ban will relieve both  pressure on the state's general fund s and our overcrowded prisons.
But why is all of this so important?
California's racial and ethnic minorities make up the majority of the prison population, with blacks and Hispanics comprising a full 70 percent of those in state institutions—and in a state that is already majority minority, with Latinos set to surpass whites in the state by March—this is a problem. Though the share of the prison population blacks and Hispanics represent is startling, their rate of incarceration gives a better picture of the disparate impact the criminal justice system confers on racial and ethnic minorities: Blacks are 7.7 times more likely to be incarcerated than whites, and Hispanics have almost double the incarceration rate of whites.  If these trends continue, one in six Hispanic men, and one in three black men will be incarcerated during their lifetime, disparately larger rates compared to the white male incarceration rate of one in seventeen.
As I mentioned in another blog post, the best way to ensure that ex-inmates stay on a positive, productive path is to make sure they have a fighting chance in the legal economy. Over one in four Californians have criminal records, and if we want people to give up crime, we simply have to give them a legal way to support their families.  Providing access to much needed assistance and workforce training gives them the opportunity to turn their life around and become contributing citizens, which ultimately helps California.