I won't lie to you: Being a diversity advocate in the financial sector can sometimes be maddening.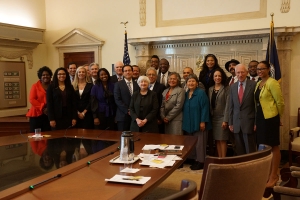 I can't tell you how many feel-good speeches I've sat through, shallow diversity trainings I've heard about, or rainbow posters I've seen as "evidence" of an organization's commitment to diversity & inclusion. These intentions, though well meaning, miss the real point: Diversity is more than "brown faces in high places."
Diversity is about integrating a full understanding of the consumer base, typically gained through lived experiences, into decision-making. And when diversity is adequately and strategically realized, all communities equitably benefit —from how a company markets products, to how the government regulates the economy. In other words, diversity is about how policies and practices that affect the end user are made.
Today, I'm thrilled to say that arguably the most influential regulator in the world, Chair Janet Yellen of the Federal Reserve System, took a meaningful step by making that critical connection. The most important element of Chair Yellen's speech at  the National Summit on Diversity in the Economics Profession was:
"All of you know that there has been a fair amount of public debate in recent years about the health of the economic profession, prompted in part by the failure of many economists to comprehend the dire threats and foresee the damage of the financial crisis. Did the economics profession recruit and promote the individuals best able to bring the energy, the fresh insights, and the renewal that every field and every body of knowledge need to remain healthy?"
Chair Yellen also was clear that, "these are not idle questions," something Greenlining and our coalition know too well.  For years, Greenlining has been asking these very questions and highlighting why diversity is critical to a healthy economy. In fact, we asked similar questions three weeks ago when our coalition met with Chair Yellen, the other Governors, OCC Comptroller Curry, FDIC Chairman Gruenberg and other key regulatory heads during our annual trip to Washington, D.C.
And we know that questions are not enough.  That's why we published The Racial Equity Framework, a comprehensive guide to help policymakers, step-by-step, through evaluating and creating diversity and inclusion within their organization. We've seen effective frameworks produce equitable results for communities of color across a number of programs, and encourage financial regulators and companies to unlock their full potential and utilize this or other tools.
The good news is the Dodd-Frank financial reform law created 20 offices with this exact purpose—The Offices of Minority and Women Inclusion (OMWIs). These offices face the difficult but vital task of diversifying their federal financial regulatory agencies and over 70,000 financial institutions. The bad news is that the policy that created them didn't given them a lot of power or resources to make their jobs any easier.
Greenlining has been pushing the leaders of the OMWIs' respective agencies to support them, by making the case for why diversity is so important to the health of our nation. Clearly we should no longer have to make this case, as the financial crisis of 2008 clearly demonstrated the consequences of a regulatory system that failed to hold financial institutions accountable and protect consumers from a precarious lending environment. Yet even today, the general lot of regulators and financial institutions have yet to fully accept the value proposition of diversity in the workplace.
We commend Chair Yellen for her leadership in publicly communicating that more diverse regulators will lead to a better and more responsive government that can serve the interests and needs of a diverse nation.  We urge her peers to follow suit.  But you can be sure we'll be expecting more than just insightful speeches. Once we get regulators to "talk the talk," you can be sure we will continue pushing for them to "walk the walk."