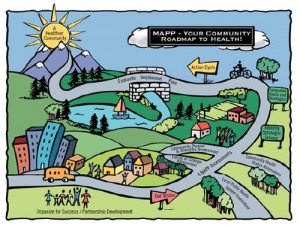 This week I had the pleasure of joining a convening hosted by PolicyLink and the Robert Wood Johnson Foundation (RWJF) on how not-for-profit hospital community benefit, combined with new rules and the expansion of coverage in the Affordable Care Act (ACA), might help in moving towards childhood obesity reduction.  I learned an important lesson about the voice of the community in these discussions.
First, a quick refresher: "Community benefit" refers to the obligation of not-for-profit hospitals to operate for the benefit of the communities they serve, in exchange for the enormous tax break we give them. Community benefit includes financial assistance for the medical care of low-to-moderate income patients, the shortfall for providing care to patients in public programs like Medi-Cal (which often don't pay enough to cover the cost of care, and spending on public health programs and activities beyond the hospital walls that help people and communities stay healthy. That's an issue that my colleague has blogged about often since the release of our report on the issue.
Among other goals, the convening explored ways that the ACA-mandated community benefits can be leveraged to improve access to health systems, especially systems focused on reducing childhood obesity in low-income communities and communities of color. Childhood obesity is of particular importance because, as RWJF research has pointed out, "if we don't reverse the childhood obesity epidemic, the current generation of young people could be the first in US history to live sicker and die younger than their parents' generation."
As Greenlining has said before, the new community benefit rules under the ACA create a unique opportunity for our hospitals to invest in the community by focusing on programs and activities that help people not get sick in the first place. But in order to do this, hospitals need the flexibility to develop community benefits based on what the community sees as high priorities – which means the community must have a voice in identifying those needs.
At the convening I got an important remindeer of why the community voice is so critical. During one of the break-out sessions, we were asked to identify programs or initiatives that we thought hospitals should be doing as part of their community benefit efforts in order to reduce childhood obesity. I immediately had a laundry list of ideas.
Shortly after I shared my laundry list, a woman representing Native American tribes in New Mexico said something that made me take a step back and rethink what I had done. She said she had a hard time thinking about what the hospital could do in her community because so many members of her community do not even know what community benefit could mean for them. For her, historical mistrust in government and other entities remains strong in the Native American community, so  part of what needed to happen – early in the process, prior to deciding on what to do – is sitting down and listening. The lesson: We have to start with hearing the community, building trust, and working with them to identify their need. Many communities, after all, have had good reasons to distrust large institutions over the years.
What made this particularly telling for me is that I have known this and Greenlining has advocated on this issue. It is one of the big reasons we are co-sponsoring legislation to increase transparency in community benefit and ensure that community has a seat at the decision-making table. But in the moment, I myself needed the reminder that I needed to listen, and not just pull out my own list of solutions. This is why we need to pass legislation like AB 503. Those working in community benefit departments have good intentions, but unless we take the time to listen, we may miss the mark on the true community needs.