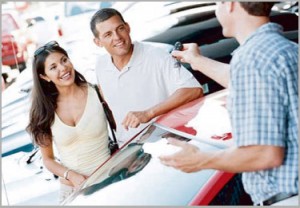 The Consumer Financial Protection Bureau (CFPB) and Department of Justice (DOJ) ordered Ally Bank to pay $80 million in damages to more than 235,000 borrowers who were forced to pay higher interest rates due to the color of their skin. We applaud the CFPB and DOJ for the work they've done to protect consumers of color with the federal government's largest auto loan discrimination settlement in history. Ally is one of the largest auto lenders, and we hope this will send a message to the entire industry that the time has come to end discriminatory practices.
It worked like this:  Ally would finance the purchase of a car by providing a loan to a car dealer, who would then sell this loan to a consumer buying a car. The dealer was getting an interest rate from Ally  —  for example, let's say 5 percent–  but then Ally allowed the dealer to add to that interest rate — say another 3 percent — and then Ally would return all or some of that additional money to the dealer. This is called a "dealer markup," and it could be quite lucrative. CFPB found that Ally and the dealers were charging higher rates to African-American, Latino, and Asian and Pacific Islander borrowers than whites. The end result was that Ally and the dealers were enjoying higher profits due to discrimination.
Unfortunately, "mark ups" for consumers of color appear to be common. The CFPB also recently fined National City Bank for charging higher prices on mortgage loans to African American and Hispanic borrowers than to whites. Similar to what Ally was doing, National City allowed its loan officers to charge borrowers higher rates and fees and pocket the difference. CFPB found that overwhelmingly it was borrowers of color that were being steered into higher rates, regardless of their credit histories. Unfortunately this was common during the foreclosure crisis, as Wells Fargo and Bank of America also had to pay fines for charging more to non-white borrowers.
This is a great reminder of the importance of the CFPB, since it is the only government agency there to protect consumers in their dealings with banks, credit card companies and other financial businesses – all consumers, not just consumers of color. It is also important to remember that the creation of the CFPB was actively opposed by many  in Congress, especially the 10 Republican senators on the Banking Committee that have received $31 million from the financial industry . Some in Congress have continued their opposition to the CFPB and its regulation of auto lending, led by Rep. Spencer Bachus, another Congressman well-funded by the commercial finance industry.
Greenlining strongly supported creation of the CFPB. These latest actions are perfect examples of why consumers need a "cop on the beat" watching over the financial industry.