Last week I had the pleasure of attending the Social Innovation Summit in New York City. Created by Landmark Ventures and hosted by JPMorgan Chase and the United Nations, the two-day conference is best described as a "gathering of the minds." Business leaders, government officials, and nonprofit leaders from all over the world mingled, networked, and shared ideas on how cross-sector partnerships can solve social inequalities.
Meetings like this are rare, but important. Solving inequality is a large task – one that requires significant investment both financially and programmatically. Spreading that investment across industries and sectors creates a sense of shared responsibility and commitment. I believe that shared responsibility and commitment has the ability to create better, more sustainable solutions to social inequalities.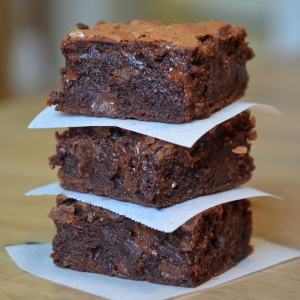 Let me give you an example from the summit. Greyston Bakery, headquartered in Yonkers, New York, sells brownies. It has corporate contracts with Ben and Jerry's and Whole Foods Market. But that's where the typical business model ends. Greyston maintains an "open door hiring policy," meaning people with criminal histories, limited educational attainment, or drug/alcohol addiction can easily find a job, no questions asked.
Greyston is registered as a for-profit company, but all of its revenue goes to the Greyston Foundation, where it is used to support the local community. The Foundation supports low-income housing, a community day care center, and a medical center for low-income families in Yonkers.
It was inspiring to hear about companies like Greyston, in part because so much of our work here at Greenlining focuses on increasing job opportunities for low-income people of color. On the Health Equity team (and some of our other policy teams), this includes easing employment restrictions for the formerly incarcerated.
Last year, we worked closely with Covered California and the National Employment Law Project (NELP) to create guidelines allowing those with a criminal history to have an individualized assessment to determine if they were qualified, rehabilitated, and trustworthy enough to become certified enrollment counselors. NELP just released a report that recommends ways for individual assessments to become more widespread in the health sector. In that report, NELP suggests state governments, hospital executives, and advocacy organizations work together to implement changes in the hiring process. See a pattern here? It takes buy-in from multiple industries to create lasting change.
Individual assessments for the formerly incarcerated are a step in the right direction. But to make sure the formerly incarcerated have a fair shot, we have to make sure they have the skills necessary for jobs in today's economy. That's why Greenlining supports AB 2060. This legislation would increase funding for job training programs that focus on those under court supervision. Individual assessments and job-training programs for the formerly incarcerated are innovative, equitable solutions to reducing recidivism.
While some view these moves as controversial, we view them as an economic necessity. People of color are the majority in California, but they are also disproportionately affected by the prison-industrial complex. Unless we create policies and business models that try to change this statistic, the economic vitality of our state – and nation – is at risk.
That's where the social innovation piece comes in. Companies like Greyston Bakery (and Homeboy Industries for all you native Californians) are great, but they can't solve employment barriers for low-income communities of color by themselves. It's going to take a concerted effort from business leaders, policymakers, and foundation executives.
In his closing remarks at the Social Innovation Summit, Michael Smith, Director of the White House's Social Innovation Fund, asked participants what would happen if we got stakeholders together, all committed to solving the same social problems. After spending two days with some innovative, social justice-oriented people, I'd like to think that companies like Greyston Bakery and legislation like AB 2060 would become the norm, and not the exception.