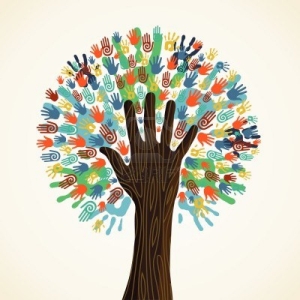 As usual, I'm back again to blog about why this country desperately needs diversity. Typically, I've focused on the need to have people of color  in positions of influence. While it's true that diversity of representation is a key component to empowering our communities, it's just one piece of the puzzle. Another crucial step is making sure that we benefit financially and get the dollars in hand necessary to grow and strengthen our communities.
While the Rick Santorums out there may think I'm advocating for more black people to go on welfare, I'm really talking about creating more opportunities for businesses owned by people for color to get contracts from large corporations and other organizations. This concept, known as supplier diversity, encourages firms to do outside contracting with businesses owned by people of color, women, disabled veterans, and other historically marginalized groups.
"Why does this matter, and what kind of impact does this 'supplier diversity' have?" Excellent questions! Aren't you smart!
Businesses spend a lot of money on outside products and services—whether they're buying staples and paper clips or hiring law firms to oversee a merger— and it matters where that money goes.  Take, for example, California's planned $69 billion bullet train, or the $73.8 billion the largest banks will spend on IT alone next year. That's some serious money. And if those contracts reach diverse businesses, it's the type of money that allows businesses to grow their wealth, invest, and create jobs in their local economies.
Unfortunately, the business of getting those contracts isn't a level playing field. Historical racism, discrimination, and longstanding relationships (sometimes forged over golf courses and drinks at the country club) exclude racial minorities and women from the "old boy networks" that produce these important contracts. A good example of this is the Federal Reserve Bank of New York.  Last year, only 2.7 percent of its contracts were with minority-owned firms and just 1.9 percent were with firms owned by women.
That's why some organizations and sectors have created formal supplier diversity programs. These are not mandates or quotas that say, "X amount of contracts have to go to diverse-owned businesses."  But government has played a role by simply pushing businesses to report their contracting with diverse firms. For the past 25 years, the supplier diversity programs in California's public utility companies — spurred by state legislation implemented by the state Public Utilities Commission under General Order 156 — have flourished. A 2013 Greenlining report shows that these companies spent a total of $8 billion with diverse-owned firms. Many of the utilities are seeing 40 percent of their contracting dollars going to women, people of color, and disabled veterans.
For a while, it seemed the utilities were the only sector out there making a significant investment to supplier diversity. Lately, advocates have been excited to see the great strides the California Department of Insurance made over the past year. Driven by a piece of legislation sponsored by Greenlining,  AB 53, the regulatory agency has started collecting information on supplier diversity programs of insurance companies that collect over $100,000,000 in premiums in the state. The Department says that applies to 206 companies in the $125 billion insurance industry. Most insurance companies don't have a formal supplier diversity program, but even just by asking, the Department is creating an incentive for them to make this important investment.
The thing that I love most about what the Department is doing is that the information they collect is actually going to serve as a resource for diverse-owned businesses. The Department's website features the reports of the companies that includes details on their current initiatives and the contact information for businesses seeking contracting opportunities. That's the kind of transparency that will lead to real, meaningful change and progress.
Greenlining will be analyzing these reports and releasing a detailed report in October. Watch this space for details.