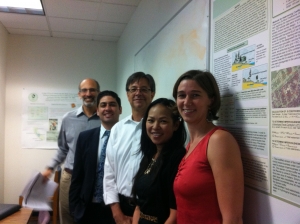 Last week, we met with California Environmental Protection Agency Secretary (Cal/EPA) Matthew Rodriguez to discuss the California Environmental Screen (CalEnviroScreen). The CalEnviroScreen is a tool that focuses both on environmental and socioeconomic indicators to calculate the most polluted zip codes throughout California.
It was exciting to hear Secretary Rodriguez discuss the potential for this tool to improve the environmental quality of disadvantaged communities. Secretary Rodriguez's deep
insight into the conditions of disadvantaged
communities – and how CalEnviroScreen might be used to mitigate some of our communities' longstanding problems – serves as a model for decision-makers. Most importantly, it was inspiring to see his interaction with the different stakeholders and his desire for feedback to make this tool more effective . Secretary Rodriguez told us he hopes that CalEnviroScreen won't be used only  by Cal/EPA, but by all local and governmental agencies when looking to prioritize solutions or developing a new project.