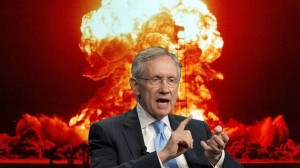 The good news is that the Senate finally confirmed Richard Cordray as the Director of the Consumer Financial Protection Bureau (CFPB). The bad news is that it took them over 700 days. What's even worse news is that if a minority of Republican senators had their way, the CFPB would become a leaderless and ineffectual agency.  This is exactly what lawmakers – and consumers — didn't want when they created the CFPB in the wake of the 2008 financial crisis.
Under the leadership of former Ohio Attorney General Richard Cordray, the CFPB has led the charge to stop the predatory lending that led to the housing crash, in addition to tackling new challenges. Under Cordray, the CFPB has upheld its promise to be the "cop on the beat" of consumer finance. Some of its achievements include:
Targeting lending practices that disproportionately harm communities of color, such as racially discriminatory auto loans;
Returning nearly half a billion dollars to consumers cheated by credit card companies;
Moving to end the era of mortgages that rake in up-front fees before they self-destruct;
Protecting military families against illegal foreclosures and deceptive lending practices;
Exposing payday loan ripoffs; and
Overseeing debt collectors and credit-scoring agencies, which have never before been subject to federal oversight.
And there is still so much more to address, from harsh bank overdraft fees to skyrocketing student loans.
Cordray was appointed to his current post as CFPB Director by President Obama during a Senate recess – a maneuver made necessary by a small minority of senators pledging to block any nominee to head the bureau. That minority threatened to hijack the whole confirmation process with a filibuster. The resulting showdown wasn't pretty, with Republican senators bemoaning the "nearly unprecedented" powers of the CFPB, and Democratic senators threatening the "nuclear option" of eliminating the filibuster for presidential nominees.
Now I understand that in the Senate, a rule change is somehow considered akin to dropping a thermonuclear bomb, but I can't blame the Democrats. Consider that Lyndon B. Johnson faced exactly one filibuster during his six years as Senate majority leader, whereas over the same amount of time, Senate Majority Leader Harry Reid (D-Nev.) has faced 413 threatened filibusters. (For those of you keeping score at home, 386 of them actually happened.)
The end result is more Congressional inaction than usual: even routine matters grind to a halt. And then everyday Americans start questioning these supposedly time-honored procedural traditions in the Senate.
Here's the rub: this was never a fight about Cordray's qualifications. By all accounts, he is highly qualified and has won praise from advocates and bankers alike. The minority of Republican senators who stood in the way of his confirmation have said explicitly that their objective is to drastically weaken the CFPB and kill its independence. That goes well beyond the Senate's constitutional role to give "advice and consent" on the presidential nominees.
While the Senate is patting itself on the back for not lobbing any nukes, certain senators have some explaining to do. They need to explain their decision to undercut the CFPB to consumers still hurting from the financial crisis, including families who lost their homes, communities of color targeted by subprime lenders, students buried under overwhelming loans, and borrowers trapped in the payday loan debt cycle. They need to explain why we don't need a robust agency with strong leadership that is equipped to protect us from the kind of harmful lending that brought our economy to its knees.
At Greenlining, we've pushed for the creation of the CFPB and Cordray's confirmation because we know how our communities suffer when the financial industry doesn't play by the rules. And we're not alone. Just last week, along with the California Reinvestment Coalition, Courage Campaign, CALPIRG, Alliance of Californians for Community Empowerment (ACCE), Communications Workers of America, Jobs with Justice, and the San Francisco Labor Council, we delivered 165,000 petition signatures to Sen. Dianne Feinstein (D-Calif.) in support of Cordray.
If that small group of senators had successfully blocked Cordray's nomination, they would have made it that much harder to enforce fairness and transparency in the murky world of credit cards, mortgages, education loans, debt collection, and credit scoring, among many others. And the true cost of their procedural brinkmanship would be borne not by the Dems, but by consumers.
As a consumer, an important way to get your voice heard is reporting any problems with a consumer financial product or service to the CFPB. The company will be required to respond to the CFPB, among other things, and you can give feedback. Now that we have a fully functional bureau, let's use it to make sure the consumer financial sector serves our needs—not the other way around.