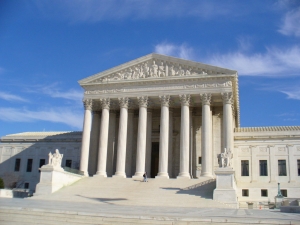 After a series of troubling rulings from the U.S. Supreme Court, anyone who cares about equity and justice got a bit of good news today:
The most odious provision of the misleadlingly-named "Defense of Marriage Act" is dead, and legally married same-sex couples will no longer be discriminated against by the federal government. This is huge. It impacts immigration, taxes and over a thousand other rights and benefits available to married couples. A law rooted in prejudice and bipartisan political cowardice, all one can say to DOMA is "good riddance."
And California's Proposition 8 is dead, too, but on narrow, procedural grounds. Gov. Brown and Attorney General Kamala Harris had declined to defend the law in court, so its proponents sought to do so in their place. While a federal appeals court allowed them to, the Supreme Court said today that the proponents lacked legal standing to be a party to the case – that only state governments have the legal right to defend state laws.
Proposition 8 is another law that we won't miss, denying basic equality to Californians in committed same-sex relationships. But it's hard to avoid worrying that someday the procedural tables will be turned. What if California passes an initiative supported by the civil rights community, but a future governor and AG refuse to defend it in court?
Still, today's rulings represent a step forward for justice and fairness for millions of LGBT Americans, and the celebrations already starting around the country are well-earned.
I wish I could say the same thing about everything the court did. While invalidating a nasty Arizona law that demanded that voters produce documentation of citizenship before registering, the justices essentially gave proponents a road map for getting around their ruling. And the court essentially punted on affirmative action, guaranteeing many more years of litigation on essential programs to give students of color a fair shot at higher education.
And, most disturbingly, the court cut the heart out of the Voting Rights Act, possibly the most effective civil rights law ever enacted.
Martin Luther King Jr. said it best: "No man is free until all men are free." There is more work to do.