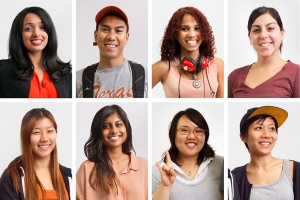 Everyone in the picture above could be labeled as "Asian," but do you really think they are all from the same culture, or have similar experiences in America? For example, Hmong Californians have a poverty rate of 33.2 percent, which is triple the poverty rate of Asian Californians overall. Asians are often described as a "model minority" in America due the success that many of them have enjoyed, but  it is a myth that all Asians are prospering in the U.S. at the same rate. That becomes apparent when you break apart the enormous amount of diversity conveniently stored in the Asian label.
Asia is the most populous and diverse continent in the world. Typically when Americans use the word Asian they are referring to people who trace their heritage from China, Japan, the Koreas and Taiwan, but Indians, Iraqis and Uzbeks are every bit as Asian.
Unfortunately, a good deal of our social science research in the United States also collapses the experience of many different groups under the umbrella term of "Asian." This has distorted research, because when you begin to look at the multitude of cultural heritages lumped together under that term, you see a very different picture of the "Asian" experience in America.
The description of Asians as a "model minority" implies that other communities of color would be more successful in America if they would simply act more like Asians. A part of this myth is that only 11 percent of Asians in America live below the poverty line,  the same percentage as whites. The "model minority" myth is usually used to argue that success in America isn't tied to race or ethnicity, even though around 25 percent of African Americans and Latinos live below the poverty line.
The experience of Southeast Asians illustrates what I'm talking about. In California, lumping all groups with Asian heritage together results in the finding that 11 percent of Asians in California live in poverty, yet a recent report by the South East Asian Resource Action Center (SEARAC) finds that the poverty rate of Southeast Asians in California is 3.5 percent higher. And the term Southeast Asian itself obliterates some diversity of experience, since some groups, like the Hmong, experience much higher rates of poverty than others.
SEARAC found that Southeast Asians in California, unlike the broader Asian population, are less likely than other Californians to have a high school education, speak English or make enough money to make ends meet. SEARAC also found that many Southeast Asians in California are less likely to use mainstream financial services like banks.
That's another difference missed when you lump all Asians together. You have to look at specific groups to find the differences, since overall, whites and Asians are the least likely to be unbanked.
SEARAC has chosen to prioritize this issue, and with good reason, since not having access to a bank account means having to spend money on check cashing fees, and makes it harder to safely save money and prepare for the purchase of a home or college tuition.
Organizations like SEARAC and Greenlining seek to increase the understanding of the diversity of experience in America's communities of color, in order to ensure that all communities of color prosper. SEARAC representatives will hold an event at the United Way in Fresno on July 9th to discuss their report on the financial and banking habits of California's Southeast Asian population. This event will be a great way to learn more about the Southeast Asian experience in California, their access to financial services, and how to ensure that this community, and our state, thrives.
SEARAC Event
Tuesday, July 9th 2013
2:00 – 4:30 PM
United Way of Fresno County
4949 E. Kings Canyon Road
Fresno, CA 93727