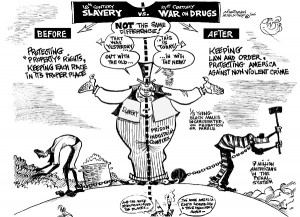 Props to Senator Mark Leno (D-San Francisco) for stepping up to help fix our broken justice system. Last week, his SB 649 passed the Assembly, with concurrence from the Senate, and now moves on to the Governor. If signed into law, the bill will help shrink our prison population and reduce recidivism by offering offenders opportunities for rehabilitation, access to jobs, and to reenter their communities.
Please Contact Gov. Jerry Brown right away and tell him and tell him to sign SB 649.
This historic drug sentencing reform bill allows counties to significantly reduce incarceration costs by giving local prosecutors the flexibility to charge low-level, nonviolent drug offenses as misdemeanors instead of felonies; and it gives judges' discretion to deem a non-violent drug possession offense to be either a misdemeanor or felony after consideration of the offense and a defendant's record. The Legislative Analyst's Office estimates reducing penalties for drug possession would save counties as much as $159 million annually—money that could be spent on helping people access rehabilitative services.
Additionally, the bill will help reduce racial inequity in our criminal justice system. Blacks and Latinos are arrested and sentenced disproportionately for low level drug offenses. Federal government surveys show that blacks, whites and Latinos use illicit drugs at roughly the same rate, yet blacks in particular are far more likely to be arrested and imprisoned for drug offenses. This is grossly unfair.
The bill's move to the Governor's desk comes less than a month after U.S. Attorney General Eric Holder announced plans to scale back federal prison sentences for low-level drug crimes. This is a welcome national trend.
SB 649 has gotten a lot of recent media attention with editorial board support from the Sacramento Bee and the San Jose Mercury News. And the LA Times recently reported that Tim Donnely (R-Twin Peaks) "arguably Sacramento's most conservative state law maker," voted in favor of the bill because as the Assemblyman stated: "the war on drugs is a colossal failure."
Senator Leno recently stated in a press release: "We know we can reduce crime by offering low-level offenders rehabilitation and the opportunity to successfully reenter their communities. But we are currently doing the opposite. We give non-violent drug offenders long terms, offer them no treatment while they're incarcerated, and then release them back into the community with few job prospects or options to receive an education. SB 649 gives local governments the flexibility to choose reduced penalties so that they can reinvest in proven alternatives that benefit minor offenders and reserve limited jail space for serious criminals."
The bill is co-sponsored by the American Civil Liberties Union of California, National Council of La Raza, California State NAACP, California Public Defenders Association, Californians for Safety and Justice, Drug Policy Alliance, William C. Velásquez Institute and Friends Committee on Legislation, and is supported by over 60 organizations, including the Greenlining Institute.