Dear Future Greenlining Fellow,
Hey there, how are you doing? If you're anything like I was last year, I'm sure you're freaking out. Between exams and job apps, you barely remember what it was like to have fun. Am I right? Well, I'm here to tell you about an amazing opportunity that may just help you out. It's called the Greenlining Institute Leadership Academy. Have you heard of it? It's an amazing yearlong fellowship that provides firsthand public policy experience, mentorship, and leadership development.
It's hard to believe that just a year ago I was in your shoes. Fast forward to now, and I've been living in the Bay Area for almost four months working for Greenlining as the Health Equity Fellow. The road getting here wasn't easy, and there is a steep learning curve that I'm still adjusting to, but I wouldn't trade this experience for anything in the world. Let me tell you why.
As the Health Equity Fellow, I've written a policy memo on the importance of diversity in the health care industry, held town halls educating community members on the Affordable Care Act, and helped coordinate a policy briefing on community benefit in Sacramento. Mind you, I just started working here at the end of August. Talk about a whirlwind!
But being the Health Equity Fellow is only part of my fellowship experience. Through the Greenlining Institute Leadership Academy I've been able to not only grow in my policy expertise but also personally and professionally. Through the Leadership Academy, I've attended multiple leadership development meetings that cover everything from negotiation strategies to fundraising techniques. Since the start of my fellowship I've relied upon these trainings to guide me through difficult decisions, and I plan on using them once my fellowship is over too.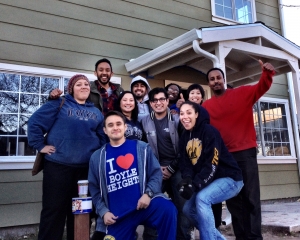 In case you haven't figured it out by now, the pace at Greenlining is really fast. No work day is the same and you should always be prepared for a new, exciting project to be introduced. For example, this past Tuesday I had a conversation with a community leader planning to run for state office next year. By Wednesday I was building houses with Habitat for Humanity in Bay Point. See what I mean?
The fast-paced environment makes work really interesting and fun. But it can also wear you out if you don't practice good self-care. But that's just another reason why Greenlining is so great. My team doesn't just care about the quality of work I produce; they actually care about me. There's a strong emphasis here on having a good work-life balance. In college I didn't know such a thing existed, so it's been a beautiful – and much needed reminder – that life isn't just all about work. You can have fun, too.
I could go on and on about all the amazing-ness that is Greenlining but I'm sure you have an exam to study for or a paper to write. But once you're done with your college courses, be sure to check out our Leadership Academy. If you've already started your application, good luck! If this is the first time you're hearing about Greenlining, visit our website to learn more about the fellowship program. Applications are due February 6th. I hope to hear from you soon.
Best,
Jordan D. Medina