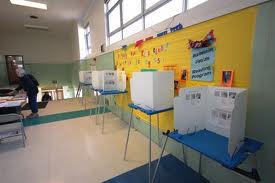 I voted today in San Francisco's municipal election. I was literally the only voter in my polling place the whole time I was there.  While it's true that many vote by mail these days, I've never seen my polling place so totally desolate. Turnout is projected to be a pathetic 35 percent, and some SF elections in the past have drawn less than a quarter of registered voters.
That's not unusual in cities that hold their elections in odd years, when there are no state or national races on the ballot, as our Claiming Our Democracy team demonstrated in a report published last month. Odd-year elections draw far fewer voters,  cost taxpayers way more per ballot cast, and almost certainly skew the turnout toward an electorate that's whiter and more affluent than the population overall.
San Francisco is about to make a small move toward sanity: In future elections, races for city attorney and treasurer will be on the same ballot as the vote for mayor, instead of off by themselves with a couple local ballot propositions, as they are this year. But they'll still be in odd years (the next election is in 2015), so this small reform is not likely to solve the problem.  Los Angeles, which suffers the same problem as San Francisco, is considering a broader suite of reforms. SF should, too.
The hot issues on SF's ballot this year are a pair of propositions dealing with a controversial waterfront condo development that involves breaching the longstanding height limit for buildings along the Embarcadero. Whether you think that's a good idea or not, it will affect development in one of the most visible parts of the city for years, likely decades. If voters are going to decide this, it shouldn't be just a few who make these decisions for the whole city.
Elections should be for all voters.