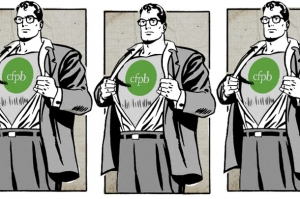 One of the best things the U.S. Congress has done in the last several years was to create the Consumer Financial Protection Bureau, the first-ever federal agency whose sole job is to ensure that banks and other financial institutions treat us all fairly.  CFPB's leadership seems serious about being helpful to consumers, and they've just upgraded their consumer complaint database.
Not only can you file a complaint online if you think you've been wronged, you can look up complaints that others have filed, and do it in a variety of ways. New wrinkles in the database include state-by-state data and the addition of complaints about money transfers and credit reporting. As of today, CFPB's database includes about 113,000 consumer complaints about credit cards, mortgages, student loans, bank accounts and services, consumer loans like auto loans, and credit reporting and money transfers. You can find complaints in your state for a particular company, and even see if they've been resolved yet — and how. You can download the data and make charts and graphs out of it.
Now I have to say the interface for visualizations – charts and graphs – is a little clunky at first, but CFPB provides handy tutorials that walk you through the process. This is way more user-friendly than most government websites.
This is all very cool. What's not cool is that some in Congress are still out to destroy, or at least eviscerate, the  CFPB. We should all let our representatives know that these anti-consumer efforts cannot be allowed to succeed.