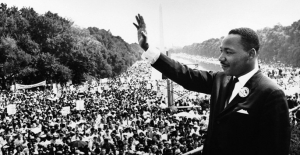 As I read the reflections on the 50th anniversary of the March on Washington for Jobs and Freedom , I noticed that something important was downplayed: Martin Luther King, Jr.'s lifelong passion for economic justice. Not only did many commentators miss the opportunity to comment on the "Jobs" part of the March, they missed the debt today's economic justice movements owe to King.
I noticed this because in college, I used to spend hours poring over 60's-era newspaper clippings about King and his colleagues.
When I was an undergrad, I had the good fortune to work for the Martin Luther King, Jr. Papers Project. The King Papers Project is run by Professor Clayborne Carson, founder of the Martin Luther King, Jr., Research and Education Institute. In 1985, Coretta Scott King asked Professor Carson to edit and publish The Papers of Martin Luther King, Jr. Since then, the King Papers Project has expanded into many different activities.
Coverage of the March on Washington's anniversary inspired me to reach out to Professor Carson, my former boss. I asked him what King himself would have had to say about the rising racial wealth gap in our country.
A lot, as it turns out.
In 1948, as a nineteen-year-old seminary student, King wrote that his mission as a minister would be to to focus on three problems: "slums, unemployment, and economic insecurity." From the beginning, he saw himself as a social gospel minister. The Social Gospel tradition grounded Christianity in the ideal of social and economic justice.
King's involvement in the Civil Rights Movement sprang out of his commitment to the social gospel. Professor Carson puts it this way: "Because of Rosa Parks, he took a ten-year detour into being a civil rights leader."
By the time the March on Washington happened, King and much of the event's leadership were deeply attuned to the nation's rising economic disparities. Their Bill of Rights for the Disadvantaged called on the government to help remedy persistent racial gaps in housing, employment, and education. Sadly, these inequities still persist today.
In fact, King left a profound influence on today's fight for economic justice. "King organized an Occupy movement," Professor Carson said. "It was called the Poor People's Campaign, and they occupied the National Mall and intended to stay there until Congress acted. Participants in the recent Occupy movement didn't realize they were doing what King had done 40 years earlier."
I had one last question: Why has King's message of economic justice become so obscured over the decades?
Professor Carson offered this observation: "Rights have often been defined in ways that don't cost money. It doesn't cost money to pass a civil rights bill. That's one of the aspects of why achieving economic rights is so much harder."
As King said in a 1967 interview, "The biggest problem now is that we got our gains over the last twelve years at bargain rates, so to speak. It didn't cost the nation anything. In fact, it helped the economic side of the nation to integrate lunch counters and public accommodations." But, he added that "now we can't get rid of slums and poverty without it costing the nation something."
Although King said he was "not one to lose hope," he admitted that "the dream that I had that day has, in many points, turned into a nightmare." Today, it is up to us to carry on his dream of social and economic justice.