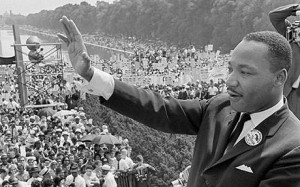 A friend about half my age, whom I've known since he was 14, emailed me over the weekend, feeling pretty glum about the state of humanity:
"It just occasionally gets a bit too overwhelming when I see all this terrible stuff going on in our country and world and so many people that are just purely apathetic about it.  What do you think, Bruce?  You've had a bit more experience than me, do you think things are beginning to get better, worse, or about the same in the world recently?"
In figuring out how to answer my friend, I suddenly realized that – despite my tendencies toward cynicism and snarkiness (already familiar to readers of this blog) — I am at heart an optimist. I wrote:
Since everyone is remembering Martin Luther King this weekend, it may be appropriate to quote him: "The arc of the moral universe is long, but it bends toward justice." I do believe that's generally the case, though there are some hellacious ups and downs along the way. There are some plenty awful things happening in this country and in the world right now, but I can also think of pretty wonderful things that I never, ever believed would happen.

25 years ago, I never in my wildest dreams imagined that we'd have a black president or that same-sex couples would be getting married, and that the majority of Americans would be just fine with both of those things. Or that Nelson Mandela would emerge from prison to become president of South Africa and then, when he retired, one of the most revered human beings in the world.

These things happened because people made them happen. To quote Margaret Mead: "Never doubt that a small group of committed people can change the world. Indeed, it is the only thing that ever has."
And there are plenty of committed people out there trying to change the world. Some of them pass through our Leadership Academy every year, and they never cease to amaze and impress me.
Things are a little sad around here right now, as this year's Summer Associates have left and the place is feeling a bit empty. But over the next several months you'll see some of their work in the form of reports on issues ranging from water policy to how to increase voter turnout. Just out of college, they're already starting to change the world.
Dr. King and Margaret Mead were right.
---