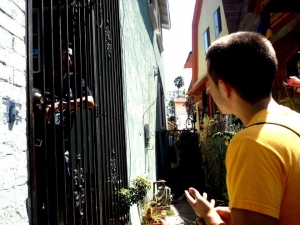 Recently, Greenlining has been looking into cities like Los Angeles and San Francisco that hold their municipal elections in odd years, and what that timing does to voter turnout.
While analysts can sit and ponder what all of the data suggest, I can tell you that odd-year elections hurt low-income voters and communities of color the most. Why? Because during the 2013 mayoral campaign in Los Angeles I led a team of organizers that knocked on over 100,000 doors and made over 250,000 calls to voters all over the L.A.  So I know first-hand that odd-year elections only confuse voters.
I can't tell you how many voters yelled over the phone or from behind their screen door: "You want me to vote again?!" or "Ya vote por el Obama!" (I already voted for Obama). While some find this amusing, I find it absolutely unacceptable. Having reached out to voters twelve hours a day, seven days a week for ten months in the community I grew up in, I can put a face to the data. Sadly, each and every one of those faces is a person of color. My community.
I mentioned in my last post that we live in a bit of a bubble here in California, because in other states voter suppression is a lot more obvious. However, these less blatant election practices are just as harmful to our democracy. One-fourth of the electorate in second biggest city in the nation is electing the top leaders of Los Angeles.
Fortunately, one week after our report showing that odd-year elections result in lower voter turnout and cost taxpayers more money, the city of Los Angeles proposed a Municipal Elections Reform Commission that would, among other possibilities, "explore such ideas as changing the date of city elections…" as reported by the Los Angeles Times. I am hopeful and optimistic about Los Angeles leader's first step to ensure that all communities have access to our democracy, because, like Greenlining's Claiming our Democracy program, Los Angeles Mayor Eric Garcetti holds similar values: "City Hall works better when we the people's voice is strong," he told the L.A. Times.
Los Angeles, as dear as I hold you in my heart, there is no excuse for suppressing any community's voice. Let's get it together and continue to show the world why L.A. is so great. Then, maybe, other cities will follow.