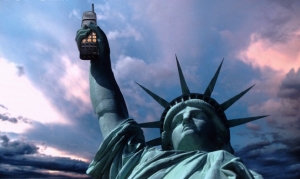 Do you have a landline?  Do you know what a landline is?  If your answer to either question is no, don't feel too bad because you are not alone.  In fact you might be part of the majority of phone subscribers in the U.S.  Because of this, you probably have no idea that a battle—yes, I said battle—is happening right now that will decide the future of the old-fashioned landline telephone.  This battle concerns all consumers of telephone services—landline AND digital.
Telecommunication carriers are vehemently insisting that the FCC allow them to discontinue the analog system and transfer all of their analog customers to Voice over Internet Protocol (VoIP) or digital service.  The analog phone system is what we all know as traditional landline telephone service.  Telephone service that uses digital technology, such as phone service provided by Comcast or AT&T U-verse, is known as digital telephone service.   What is the problem?  The analog phone service features a wide range of consumer protections, but it's unclear whether those same consumer protections apply to VoIP.
Telephone consumer protections are designed and enforced by the Federal Communications Commission (FCC).  These protections guarantee that you can dial 9-1-1 in case of an emergency, you can afford to pay for basic telephone service, and that your phone service meets minimum quality standards.  These regulations ensure that you reap these benefits whether you live in a big city or in a remote countryside, and it ensures that everyone has access to telephone service.  Landline subscribers often take for granted the essential services that FCC regulations ensure.
For a phone user, a call is a call and what sort of network carries the signal makes little difference.  But currently, it is unclear whether the FCC will have the same authority to regulate VoIP to ensure that you receive the same services as you would if you still had an analog phone.  I would like to discuss two of these services: Lifeline and Reverse 9-1-1 systems.
Lifeline:  The Lifeline program allows eligible, low-income participants to receive a significant discount on their monthly basic phone service.  The Lifeline program guarantees that everyone can call loved ones, emergency services, employers, and members of their communities.  People of color, seniors, and people with disabilities rely on basic phone service, which many cannot afford without help from Lifeline.  Lifeline's success is essential in a world where everyone's economic and social well-being depends on the ability to access information and be connected with the rest of society.
Reverse 9-1-1 systems:  Reverse 9-1-1 calls are the pre-recorded messages that residents receive during an emergency on their TVs, internet, or phones.  When disasters strike—such as Hurricane Sandy devastating major cities near the Atlantic and when PG&E's gas pipeline exploded in San Bruno, California, authorities need a way to tell citizens about urgent dangers and conditions in their neighborhoods.  Landline carriers are required to provide the phone numbers of their customers to local reverse 9-1-1 systems.  This free and crucial service is largely taken for granted by those who have been fortunate enough not to have ever suffered a disaster.
Although the services I mentioned above affect everyone, certain populations disproportionately rely on them.   For many low-income people, seniors, and people of color, their phone is their only means of communication and their only link to information about government services, medical care, or the simple ability to communicate with friends and family.  If the carriers have their way, the FCC will not be able to require carriers to provide these simple, but critical, services.  Here at Greenlining, we are not advocating for the preservation of the analog or landline system.  What we do want is for VoIP – and any other way we might make phone calls in the future – to be made available to everyone the same way that traditional phone service is available now.  The FCC needs to ensure that digital phone service is made universally available nationwide, just as it did with traditional landline service.  If not, the most vulnerable, underserved, and poorest customers will suffer the most.