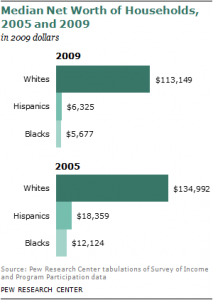 Five years ago this month, our economy was in a world of hurt. From the Dow's record one-day plunge to Lehman Brothers filing for bankruptcy, the pain was spread far and wide.
But it was underserved communities who took the hardest hit from the crisis and accompanying mortgage meltdown. For example, the Brandeis Institute on Assets and Social Policy found that, in the short period between 2007 and 2009, black families lost half their collective wealth and Latinos lost an appalling 67%. And The Urban Institute showed that the racial wealth gap is the largest it has ever been since the Federal Reserve started tracking it.
The task of recovery is clearly no small feat.
The Department of the Treasury issued a report this month to examine what's happened in the five years since September 2008, when the financial crisis sent shockwaves throughout the country. On one page, the Treasury includes a checklist of post-crisis financial reform goals:
Improving accountability and transparency
Ending "too big to fail"
Ending taxpayer bailouts
Protecting Consumers
Except hold on—why are these goals all checked off in Treasury's report? Let's not get ahead of ourselves. These tasks don't seem quite finished.
In July 2010, President Obama signed into law the Dodd-Frank Wall Street Reform and Consumer Protection Act, which made important rules targeted at making our financial system safer and more accountable. It's the most comprehensive financial reform law since the Great Depression.
Certainly, Dodd-Frank isn't perfect. But if fully implemented as Congress intended, the law accomplishes important market safety checks and consumer protections. These include more esoteric topics like regulating large companies whose failure could again tank the economy, creating rules for the previously unregulated world of derivatives, and requiring banks to keep some "skin in the game" by making sure they hang on to a portion of their riskier deals. While not dinner conversation material, establishing these rules of the road help make us all safer by keeping financial institutions in check.
One development we're particularly excited about here at Greenlining is the creation of the Consumer Financial Protection Bureau, an independent agency whose sole job is to protect the public. In its first two years, the CFPB has already targeted abuses from unfair mortgage practices to discriminatory auto lending.
But as Senator Elizabeth Warren rightly points out, there is still so much work to be done. The agencies tasked with creating the rules set out by Dodd-Frank have missed more than 60% of their deadlines.
Congress must bear some responsibility for that. "Since when does Congress set deadlines, watch regulators miss most of them, and then take that failure as a reason not to act?" Senator Warren asked. "I thought that if the regulators failed, it was time for Congress to step in. That's what oversight means. And that's certainly a principle that would have served our country well prior to the crisis."
Part of the problem is that the financial industry slows down the process. Senator Warren called this out as well: "[W]e should not accept a regulatory system that is so besieged by lobbyists for the big banks that it takes years to deliver rules and then the rules that are delivered are often watered-down and ineffective." As the New York Times gently put it, financial industry lobbyists "help" legislators write legislation—often by supplying whole chunks of a bill, word for word.
As the Treasury's report said, "The financial crisis reminds us that we must remain vigilant to emerging risks in the system. The financial system is dynamic and firms are innovative. And as sources of risk change, regulation and oversight must keep pace."
Congress and regulators have made good progress, but they're not keeping pace. Former FDIC Chair Sheila Bair warned that the more government waits, "the more [the rules] get watered down, the more exceptions that get built in, people's memories about the crisis start to fade and the pressure isn't there."
With so much riding on financial reform, we can't afford to slow down.