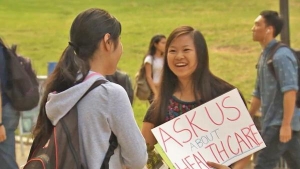 Much anticipation has brewed while stakeholders, policymakers, and consumers have diligently waited for Covered California to release its enrollment numbers. Much of this anticipation has come on the heels of healthcare.gov not producing the numbers the Obama Administration would have hoped for by now. My colleague, Jordan Medina, however, has pointed out that Covered California is not healthcare.gov.
While Covered California's Executive Director Peter Lee has said that the numbers will not appear as impressive as people are hoping, they do fall short of the original enrollment goals, with 35,000 people enrolling in Covered California and another 80,000 into Medi-Cal from October 1st to November 2nd. However, according to Sarah Kliff and Ezra Klein of the Washington Post Wonkblog, ten percent of people who have been determined eligible to enroll have actually done so; and in state-based marketplaces, like Covered California, the rate is as high as 21 percent. In a press release, Covered California announced that of those who have completed the enrollment process, 70 percent found the application easy to complete. Unfortunately Covered California's statement today did not include demographic data with enrollment numbers. This information is vitally important for those community organizations trying to conduct outreach efforts so that they know who to target.
Some would argue that it is hard to really know how important these early numbers are to the overall success of the Affordable Care Act, since people still have over four months to sign up. But people do care about the numbers. Knowing that California needs to get its enrollment up, and needs to target immigrant and young, healthy populations, Covered California and its outreach and education networks are actively launching a campaign over the next month to do just that. Enrollment events have already been gearing up around the state and Covered California is launching more targeted outreach to immigrant communities, including Asian Americans, and younger populations. And in cities across California, November 16th has been deemed #GetCovered day! To find out about enrollment events in your area, or how where you can get in-person assistance, visit Covered California today!