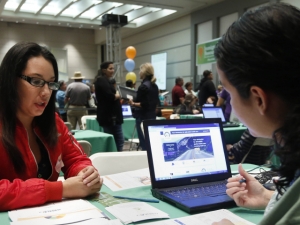 It's the law: Public assistance agencies have to help people register to vote. But one of California's newest and highest-profile agencies isn't doing it.
Back in May, the Secretary of State formally designated Covered California – the new health insurance marketplace created by health care reform — as a public assistance agency under the National Voter Registration Act (NVRA). This means that the agency must provide voter registration services to consumers. Advocates have been engaging Covered California ever since, to ensure voter registration services would be integrated into its application services by its October 1st launch date.
You may recall my previous blog post about the tremendous potential Covered California could have in registering millions. Well, early conversations with the agency sounded promising. By its September board meeting, Covered California had assured advocates that it would be fully compliant in providing voter registration, at least for online transactions, by the October 1st launch date. But that plan quickly took a left turn.
Even today, no voter registration services are actually being provided. A "link to external services" at the bottom of the page does not count. What is more interesting is that Covered California officials haven't offered any explanation about what went wrong or what their plans are to fix it.
The NVRA was designed to meet people where they are at and provide maximum opportunities to register to vote. Ensuring public assistance agencies like Covered California are doing their part is one of the best tools we have to reach underserved communities and bring them into our democratic process.
California's voter registration rate is among the lowest in the nation (only 66 percent of our voting age population was registered to vote in 2012), and the population that is registered doesn't accurately represent the diversity of the state. Seventy-two percent of white non-Hispanics in California reported being registered to vote in 2012, while only 69 percent of blacks, 58 percent of Asians, and 57 percent of Hispanics reported being registered.[1]  Meanwhile, three of every four Covered California applicants is expected to be a person of color, providing a unique chance to help California solve a longstanding problem. So far, however, Covered California seems content to be part of the problem instead of part of the solution.
ALL citizens should have fair and equitable access to register to vote.
Due to Covered California's failure to meet its legal requirements, more people are taking notice than ever before. On November 14th, 43 different groups from across the state submitted a joint letter to Covered California expressing disappointment and requesting an update on plans to integrate voter registration services. That letter was followed by one sent on behalf of ACLU, Project Vote, and Demos raising the possibility of legal action if Covered California does not take action by December 16th.
As NBC Latino reported, "[w]hile the federal Healthcare.gov site has been burdened with problems, California's healthcare exchange, Covered California, has enrolled more people than the federal site has, with fewer reported problems."
So…what's the hold up? The public wants to know!