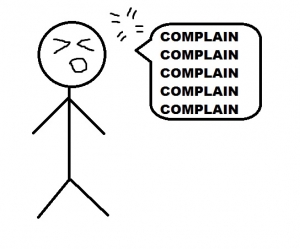 "In many cultures, complainers suffer cruel imperatives of optimism: lighten up, suck it up, chin up, buck up. In other words: shut up." –Sarah Kendzior, Why Complaining Is a Good Thing

This blog is a request to go against the grain, because I want people to complain! If you haven't heard, the Consumer Financial Protection Bureau launched a Consumer Complaint Database in March 2012. The database holds a breadth of aggregate consumer grievances that allow you to track which banking and financial companies were complained about, the services provided, and how the complaints were resolved.
Unlike pre-crisis data, this publicly available database allows for anyone to track positive or negative trends in consumer complaints, identify potential threats to consumers, and measure the effectiveness of both the CFPB and financial institutions in responding to consumer issues. In addition, complaining to the CFPB benefits both those experiencing problems and the broader public. When complaints are resolved, consumers can receive cash relief for the wrong they've endured, or non-cash relief like fixing a problem on their credit report.
To build on this new tool, Greenlining created an interactive infographic that lets you see the complaints filed in California, with a special focus on California's new majority: people of color. It takes two dense databases (from the CFPB and the U.S. Census) and converts them into a graphic that is easy to play with and understand.
In using our interactive visual, we found an interesting trend: Consumer empowerment and transparency appear to be making these financial institutions more accountable. Over time, as more people discovered the CFPB's complaint portal, companies improved their responses to complaints. We see that companies have increasingly provided responses to closed complaints, rather than leaving the consumer hanging. We're very encouraged by this, which tells us that this system of transparency and accountability is working! And that more should use it!
We also saw that complaints from zip codes with a non-white majority are very low. This contradicts what our coalition members see on the ground — which is that consumers of color are not always receiving fair treatment from financial institutions. This makes us wonder whether the CFPB can ramp up its outreach to communities of color, so that we can hear more about their stories and experiences.  If the CFPB broke down complaints by ethnicity, we could better assess how these companies are serving customers of color.
Finally, mortgages account for a large portion of complaints, outstripping all other financial products in the database: consumer loans, student loans, money transfers, credit reporting, credit cards, and bank accounts/services. This is a red flag to us that perhaps we need to demand that banks provide better quality mortgage experiences to California's consumers.
Complaining to the CFPB benefits both those experiencing problems and the broader public. Many resolved complaints come in the form of monetary relief or non-monetary relief like improving a credit report.
We are really excited about the complaint database and how this information can help advocates, the media, consumers and government hold financial institutions more accountable to their customers. Moving forward, we hope to see more consumer outreach to spread awareness about the ability to complain, especially to underserved communities and markets. In addition, we want to see complaints broken down by ethnicity! The recent foreclosure crisis showed that banks disproportionately treated consumers of color unfairly through poor mortgage servicing, and we are seeing the same trends in debt collection practices. More timely data by ethnicity can help sound the alarm on deceptive practices before they cause a national crisis.
So to conclude: if you are having issues with your financial institution, complain to the CFPB. It is important that your voice is heard and that the public knows how all consumers are being treated by their financial institutions. And check out our data visual that helps navigate the complaint database!