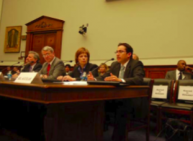 Testimony of Orson Aguilar
Executive Director The Greenlining Institute
Hearing of the House Financial Services Committee:
September 16, 2009
"Proposals to Enhance the Community Reinvestment Act"
Introduction
The Community Reinvestment Act (CRA) has helped expand economic opportunities for millions of Americans.  For many families, CRA has made the American Dream possible by ensuring that loans for homes, small businesses, and other opportunities for asset building are available and accessible to all communities.
Banks have also benefited from CRA.   Many banks have found new and profitable markets in communities that they might have otherwise overlooked.
In essence, CRA has led to win-win opportunities where banks, customers, and communities have benefited from increased bank investments in underserved communities.  CRA has worked best where true partnerships have formed between banks, community-based organizations, and government agencies.
Overall, CRA has advanced the principles of an ownership society by creating opportunities where people and families can create and own assets. Still, CRA is not perfect.  Despite CRA's track record of success, more can and should be done to invest in America's neighborhoods.
As we speak today, too many families are losing their homes and too many small businesses are shutting down.  Too many neighborhoods are decaying due to crime and abandonment.  While CRA is not a sole panacea for addressing these ills, a modernized CRA can do much to advance the economic growth that can alleviate problems at their source and improve life and opportunity in all communities.
Click here to download the full six page testimony (PDF)
Click here to watch a video of this testimony (Windows Media Player)