A MESSAGE FROM OUR PRESIDENT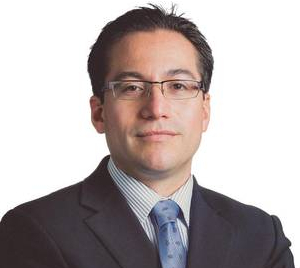 Oil companies don't speak for low-income communities.
The next time the oil industry seeks "collaboration," it should stop lecturing us and start listening to Californians, who support cutting poverty and pollution by any means necessary.
To read more, click here.
To follow Orson Aguilar on Twitter, click here.
---
SEEKING THE NEXT GENERATION OF MULTI-ETHNIC LEADERS

Applications are now open for our Academy Fellowship and Summer Associate Programs. Our programs seek to develop young leaders, empower them to shape policy, and build their network of racial equity advocates. We've developed over 1000 leaders and we need your help in finding the next ones. If you know any great candidates to our programs, encourage them to apply!
To apply, click here.
Help us promote by tweeting:
Applications to @greenlining's summer associate and fellowship programs are now open: bit.ly/GLIAcademy2016
Find your network of equity advocates and change the world together: bit.ly/GLIAcademy2016 @greenlining
---
MANY AMAZING THINGS HAPPENED IN CALIFORNIA
On Oct. 8,  Gov. Jerry Brown signed the EmPower California Act, a Greenlining-sponsored bill that will create job opportunities in historically disadvantaged communities. Our very own Sekita Grant said it best: "EmPower California will help ensure that all Californians have access to resources that provide jobs and economic opportunities in the clean energy economy." To read more, click here.
On the same day, 100+ advocates, state agency staff, and researchers gathered in Los Angeles to strategize around how climate investments can reach California's most vulnerable communities, producing over 500 online converations about UpLiftCA.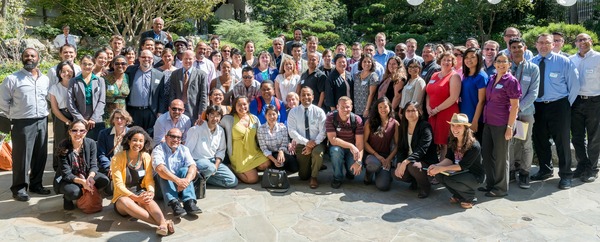 That's not all. Last month, we released our newest report on how climate investments benefited California's communities in its first year. The Fresno Bee, New America Media, radio bilingue and two Spanish language TV stations in the Bay Area featured the report.
To watch an interview in Spanish on Estrella TV KTNC of our very own Alvaro Sanchez discussing climate investments and UpLiftCA, click here.  
---
SOMETHING AMAZING HAPPENED IN DC TOO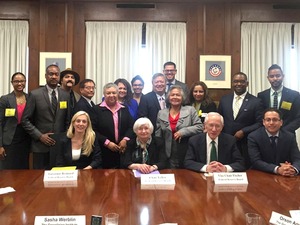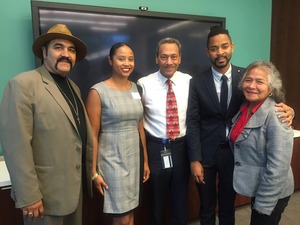 Last month, Greenlining and a delegation of its coalition members traveled to Washington, D.C. to meet with the chiefs of key financial regulatory agencies—a trip we've made for over 20 consecutive years.
Each meeting lead with an important message: diversity is key to building resilient communities, and to closing the wealth gap in our nation.
Our recommendations included encouraging agencies to lead by example in workforce and supplier diversity, especially through their Offices of Minority and Women Inclusion; and pushing regulators to encourage that banks offer services in languages other than english.