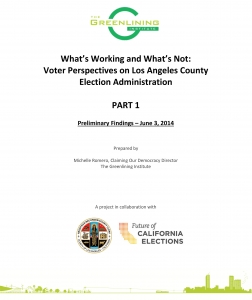 The Greenlining Institute in partnership with the Future of California Elections Collaborative and the Los Angeles County Registrar-Recorder's Office recently launched a first of its kind voter experience project. Leveraging our collective resources and employing cutting edge technology, the project was designed to collect voter feedback on the process of voting during the June 3, 2014 primary election in Los Angeles County. Targeting regions with the lowest voter turnout, the partnership seeks to understand the challenges that voters face and use their feedback to inform potential reforms.
To read the report, click here.
To watch the video, click here.