Register Today for our 2015 Economic Summit in Los Angeles!

We're a little over one month away from our big annual event! This year's Summit, titled,"#DiversityTrending: Building an Inclusive Economy," will be an event where we explore ways to advance diversity as a critical component of creating an economy that creates prosperity for all, and honor visionary leaders paving the way in that effort. Register today!
Our keynote speakers and panelists come from a wide range of industries and sectors, including the federal government, utility companies, philanthropic foundations, and community-based organizations. Check out the latest agenda and schedule of speakers. We hope to see you in Los Angeles in May!
---
Lyft and The Greenlining Institute Partner to Advance Diversity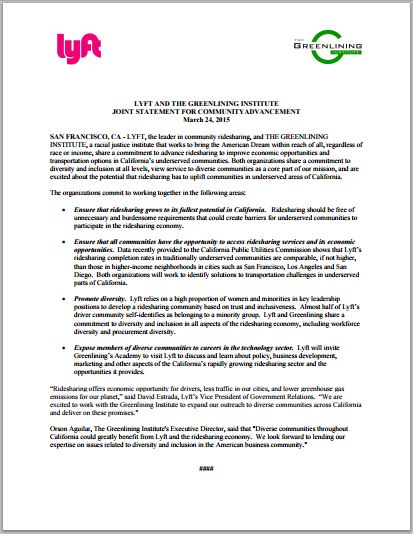 On March 24th, The Greenlining Institute and Lyft, the popular ride-sharing company, held an event to announcea partnership between our two organizations designed to promote diversity, improve transportation choices for all communities, and expose members of diverse communities to careers in the technology sector.
At the event, members of the Greenlining and tech community convened to hear remarks from Greenlining Executive Director Orson Aguilar and Lyft Vice President of Government Relations David Estrada.
In addition to the partnership, Lyft will also participate in the morning panel at our 2015 Economic Summit focused on ways to build an inclusive economy.
Read Greenlining and Lyft's joint statement on community advancement.
---
The Real Faces of California's Clean Energy Economy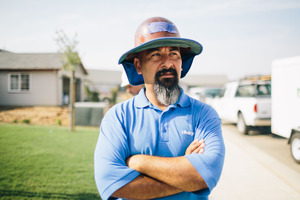 Earlier this month, Chief Operating Officer Preeti Vissa wrote in The Huffington Post about the impact California's clean energy policies have on everyday people like Jesse Magallenes (pictured on the right). In a time where special interests like Big Oil are doing everything they can (like spending millions of dollars in lobbying) to weaken these laws, it's important to hear about the real human stories behind laws that are both growing our economy and protecting our environment.
That's where UpLiftCA.org comes in. UpLiftCA is a campaign that seeks to tell the story of California's smart and effective climate change laws. We're capturing everything from how people of color are benefiting from these policies to monitoring new developments such as new legislation that would help diverse businesses gain better access to the clean energy sector.
---
New Issue Brief: Barriers to Health Care for the Undocumented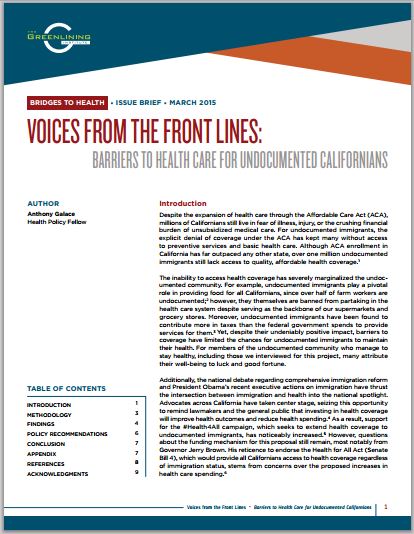 Greenlining's Bridges to Health team published a new issue brief titled "Voices from the Front Lines: Barriers to Health Care for Undocumented Californians." This brief is a follow-up to one released in 2014 that examined California's remaining uninsured and the safety net.
In the new brief, author Anthony Galace examines the shortcomings of the Affordable Care Act in California, namely the fact that although millions have gained health insurance, there are also millions who remain uninsured and dependent on a complex and underfunded safety net system.
One of the key takeaways from the new publication, highlighted in an article byNew America Media, is the idea that many undocumented Californians rely on luck to stay healthy. Nothing is more essential than one's health. In a nation known for its breakthroughs in medicine and health care, it's time to ensure that health is a human right for all.