Our Vision
Diversity and inclusion mean jobs and opportunities. Everyone deserves a good job — one that provides a pathway to build wealth and equips people to live their own version of the American Dream – regardless of their race or any other marker of difference.
The industries driving our economy should fully benefit and include people of color – which means that businesses and government bodies must use their extensive footprints to increase employment and create racially equitable outcomes for communities historically redlined in the job market. As people of color move toward being America's new majority by 2044, they must be full participants in the U.S. economy.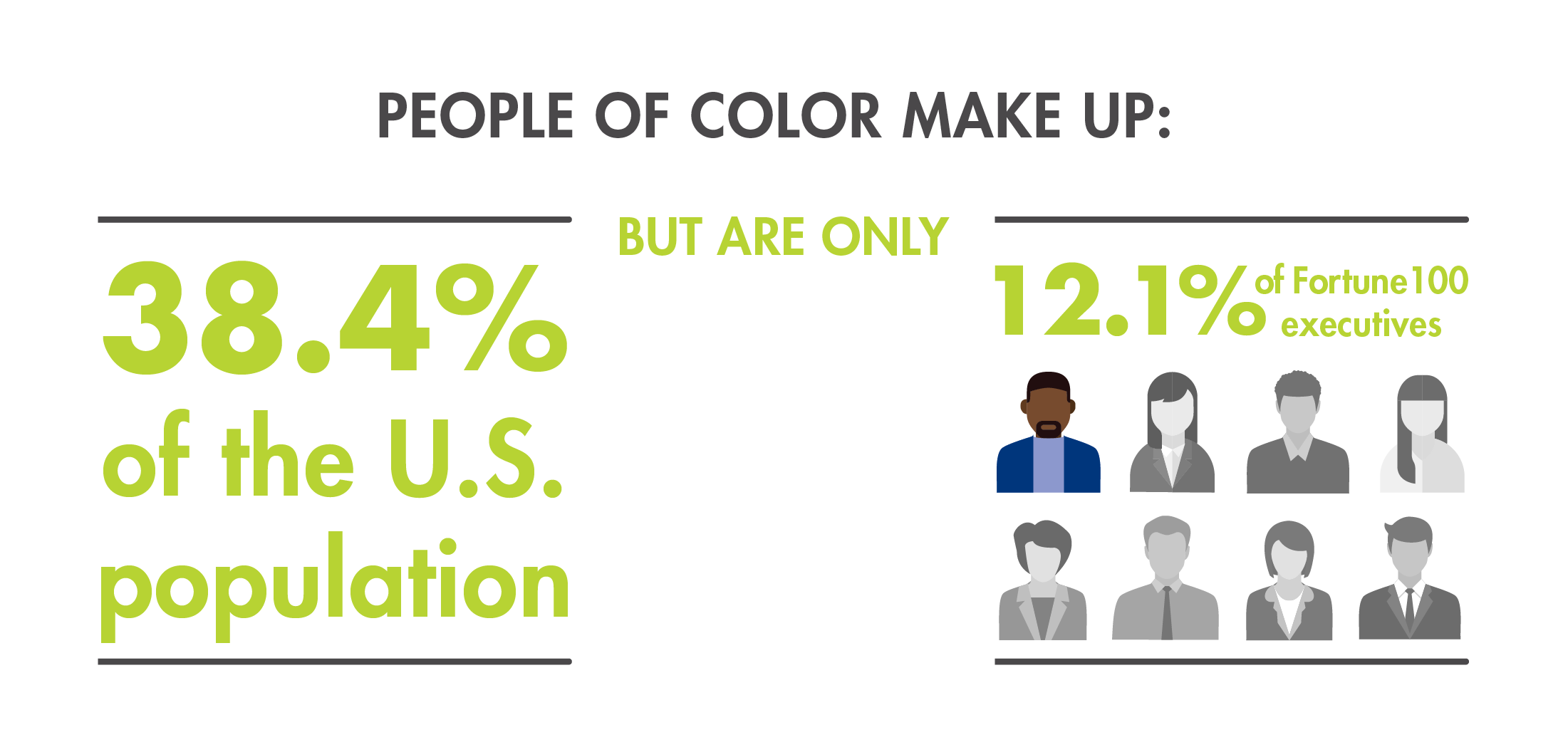 The Challenge
Despite advances, people of color remain largely redlined in the job market. Research across industries and sectors demonstrates three clear patterns: 1) Communities of color face chronic, disproportionate unemployment, with unemployment rates typically running a third or more higher than whites, 2) Representation of people of color dramatically decreases as one moves up the organizational ladder, and 3) Corporations and government agencies too often think of people of color as service or support workers, rather than as prime candidates for lucrative professional fields like technology or legal services.
In addition, our nation's larger economy and ability to accomplish our national goals also suffer when people of color are excluded from decision-making: Research clearly shows that, as Scientific American put it, diversity leads to "better decision making and problem solving." The financial crisis of 2008 painfully illustrated this. Unscrupulous lenders preyed on communities of color, but – despite warnings from Greenlining and others — regulators missed the signals and the disconnected Federal Reserve failed to act. The devastation that communities of color felt first and worst soon rippled through the whole economy.
Our Response
Corporate America: Through research and advocacy, we push leading companies in industries such as banking, health, the environment, energy, technology, and telecommunications to pursue diversity and inclusion in their workforces and supply chains. We examine the diversity of corporate boards and workforces, identify opportunities for growth and advocate for greater inclusion. Our regular analyses of corporate supplier diversity have become the gold standard in the field. By publishing data and meeting regularly with companies to track their efforts and show areas of potential improvement, we have helped to open up billions of dollars in contracts to diverse small businesses. We will keep pushing until businesses owned by people of color truly compete on a level playing field with the rest of the business community.
Government: We regularly assess and report on the internal diversity of regulatory agencies, provide resources for equitable policymaking, and advocate for policies that promote diversity. The Dodd-Frank financial reform act of 2010 created Offices of Minority and Women Inclusion in key financial regulatory agencies such as the Federal Reserve, opening the door to much-needed diversity and inclusion discussions in these offices. As our reports have shown, progress remains slow – and even that may now be endangered by efforts to repeal or weaken Dodd-Frank. On the environmental front, we're working with the state of California's CalSEED program to promote opportunities for diverse entrepreneurs in clean-energy innovation.
Research and Policy Frameworks: Greenlining's policy teams conduct research and advocacy to promote diversity in a variety of fields. For example, our Health Equity team works extensively to promote access to health sector careers for young people of color and works closely with government and private sector partners to promote opportunities for boys and men of color. Our Racial Equity Toolkit provides both policymakers and business leaders with concrete approaches to incorporating diverse perspectives in key decisions. We continue to look for new ways to advance the ideals of diversity and inclusion in both government and the private sector.