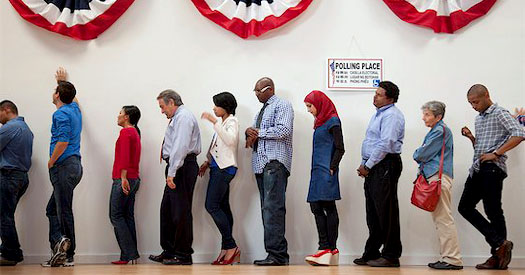 Our Vision
A strong and effective government is the fundamental building block of a strong and vibrant democracy. Government should serve the needs of an increasingly diverse America; it shouldn't govern on behalf of wealthy special interests at the expense of ordinary people. For government to remain viable and strong, it must be fair, accessible, and facilitate participation. Government sets the rules by which corporations play. Corporations shouldn't set the rules for government.
The Challenge
Our government and democracy are under attack by those who want to limit the growing
voting power of communities of color. Attacks on government lead to cuts in services that
serve children, the working class and the elderly, while corporations are increasingly writing the rules of the game. Low voting rates and new barriers to voting only aggravate this problem. Despite historically low current tax rates, the right-wing wants to further erode the tax base that we all rely on for safety, education, and military protection.
California's broken ballot initiative system is a textbook example of failed government. What was supposed to be a vehicle for ordinary citizens to make laws is now a vehicle for millionaires to make laws. The initiative system has weakened California's democracy by removing important policymaking tools from democratically elected lawmakers.
Our Response
Greenlining works to make government more effective by bringing the voices of communities of
color into the democratic process. We focus on the following areas: