"The 21st Century Majority: Empowering a New Nation"
April 4, 2014 • Oakland, CA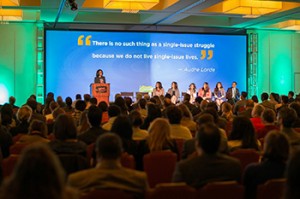 Greenlining's 21st annual Economic Summit looked toward the future: both Greenlining's future as we work to create an exciting hub for innovation and collaboration in downtown Oakland and the future of our increasingly diverse nation and its economy.
Just blocks from our future headquarters, a standing-room-only crowd turned out to welcome us to Oakland, with Mayor Jean Quan personally welcoming Greenlining to town. Pacific Gas and Electric President and CEO Anthony F. Earley, Jr. gave the morning keynote, and Greenlining's program directors discussed the issues we're grappling with as the video screen flashed a quote from Audre Lorde that pretty well sums things up: "There is no such thing as a single-issue struggle because we do not live single-issue lives."
The morning concluded with a panel on The New Economy, featuring business leaders and regulators who are leading the way toward an economy that truly provides opportunity to all of America's communities.
After a moving memorial tribute to founding Greenlining board member David Glover, Richard Cordray, director of the Consumer Financial Protection Bureau, gave the luncheon keynote. Greenlining strongly supported both the creation of CFPB and Cordray's nomination as the bureau's first director, and both he and CFPB have lived up to their mandate to be "cops on the beat" who protect consumers from being mistreated by banks, credit card companies, payday lenders and other financial businesses.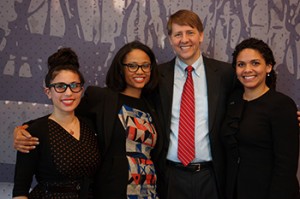 In his remarks, Mr. Cordray thanked Greenlining for its support of CFPB and its role in pushing for creation of the Offices of Minority and Women Inclusion. He emphasized the importance of diversity in the financial world, saying, "We look to Greenlining as an inspiration in this realm. I have read your Racial Equity Framework with great interest. It touches on areas where we are working diligently to effectuate change." After taking personal responsibility for promoting diversity within CFPB, Cordray also updated the audience in detail on CFPB's work, including its "Know Before You Owe" campaign to make information about all types of borrowing clear and understandable to consumers.
To view Director Cordray's complete remarks at our Summit, click here.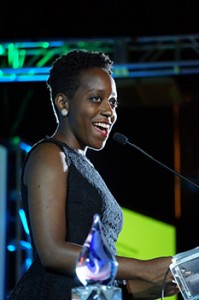 Every year, Greenlining presents awards to special individuals and organizations that have led the fight for equity and opportunity for communities of color and all Americans. This year's honorees included Street Level Health Project, which received the Community Action Award; Asian Americans Advancing Justice – Los Angeles & Asian Law Caucus, which were given the Advancing Equity Award; state Senator Kevin de León, recipient of the Big Brain Award; Wells Fargo Foundation President Tim Hanlon, who received the Big Heart Award; and Greenlining Leadership Academy alumna Milicent Johnson, Director of Partnerships and Community at Peers, who was presented with our Torchbearer Award.
The day concluded with an evening reception focused on youth, and featuring moving spoken word performances by San Francisco-based Youth Speaks, which connects young people with poetry and the power of language – with vibrant results clearly on display. Our Next Generation Award went to two Oakland-based groups: Youth Uprising, which provides comprehensive, health, wellness, educational, career, arts, and cultural programming to Alameda County youth and young adults, ages 13-24, and Youth Radio, which trains young people in media skills.
Overall, it was an exhausting but exciting day, and an important start in introducing ourselves to our new neighbors!
Click here to view the program and read more about the day's activities.