"Vision 20/20: Our Legacy, Our Horizon"
May 17, 2013 • San Francisco, CA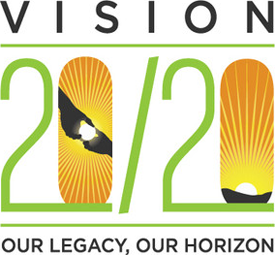 Greenlining's 20th Anniversary Economic Summit was a rousing – albeit exhausting! – success, with 1,000 community activists, corporate leaders, government officials and ordinary citizens joining in lively discussions and reliving some inspiring history.
Following a welcome from San Francisco Mayor Ed Lee, former White House aide and Rebuild the Dream founder Van Jones kicked things off with an exhilarating keynote address. He joined Greenlining's call to protect the revenues from California's new cap-and-trade program, which are supposed to be used to reduce carbon emissions, with a major portion going to low-income, highly polluted communities. Jones called Gov. Brown's proposal to borrow that money for the state general fund "a terrible blemish on his record." In his usual pull-no-punches style, Jones added, ""You can't steal from poor people and the planet and get away with it in California."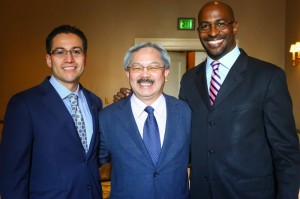 One of the day's most interesting panels looked at the demographic revolution that is changing California and the U.S., with people of color destined to be the American majority by around 2040. Moderator Maria Leticia Gomez, news anchor at Univision 14 in the Bay Area, noted, "Our social-political system claims objectivity, but doesn't represent the interests of the soon to be majority."
Based on the energy in the room and throughout the day, we think that's going to change.
The lunch program focused on major companies' increasing awareness that corporate social responsibility can no longer just be window dressing. Sempra Energy CEO Debra Reed put it simply: For successful companies, she said, being responsive to the needs of the communities they serve "is not an option anymore."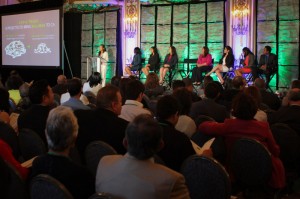 A new and innovative feature this year was the Idea Lab, an interactive session in which participants met in small groups to brainstorm the future of social justice and the priorities that Greenlining and our partners must address in the coming years. The discussions were lively and passionate, but the process isn't over:  Greenlining is already compiling all of the notes from the discussion and will hold a call with all interested participants on June 11at noon PST to share our findings.  These findings will also be summarized in a letter to President Obama detailing our collective vision for the leadership to prepare communities of color and our nation as a whole for 2040.
The emotional heart of the day, though, was the dinner program.  It's safe to say that the whole audience was moved by Leadership Academy alum Frankie Guzman's acceptance of his Torchbearer Award. Guzman, who spent six years locked up in the California Youth Authority for a robbery he committed at 15, turned his life around, became an attorney, and has stepped forward to help transform the juvenile justice system via a coveted Soros Justice Fellowship that's funding his work at the National Center for Youth Law in Oakland.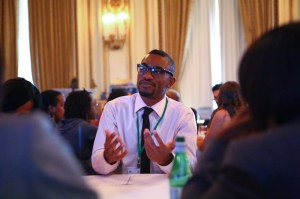 Legacy Awards went to former Federal Deposit Insurance Corporation Chair Sheila Bair, who was a brave voice for regulation of subprime lending during the run-up to the financial meltdown, and California Public Utilities Commission President Michael Peevey, whose championing of the CPUC's supplier diversity program has led to literally billions of dollars in contracts for businesses owned by women, people of color, and disabled veterans.
The evening concluded with a special half hour in which Greenlining board members and Academy alumni, accompanied by historic images and video, took the audience on a historic trip through Greenlining's first 20 years.  From the dramatic to the humorous ("Learning from our mistakes – we practically have that embroidered on throw pillows around here!"), it was an inspiring conclusion to an exciting day.
Many thanks to our sponsors and the incredibly hard-working Greenlining staff and Academy participants whose efforts made this year's Summit possible, as well as everyone who attended. We promise that next year's will be even better!
Click here to view the program and read more about the day's activities.