"Vision 20/20: Our Legacy, Our Horizon"
May 17, 2013 • The Fairmont Hotel • 950 Mason Street, San Francisco, CA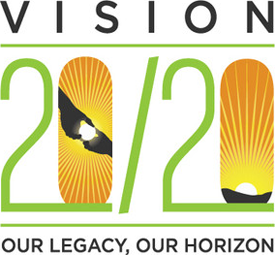 We invite you to join us for our 20th Anniversary Economic Summit — to reflect on our past, build on 20 years of achievement, and envision a future filled with promise for all of our communities. When Greenlining was founded, communities of color were roughly 20 percent of the nation's population. By 2040, communities of color will be half of the country's population. For our country to succeed, communities of color will have to succeed.
Summit Agenda: Friday, May 17, 2013
8:30am-8:45am – Opening Remarks

9:00am-9:15am – Opening Keynote Address
Van Jones, Rebuild the Dream
9:15am-10:00am – Coalition Meeting: Call to Action (Open to public)

This opening session will feature presentations by thought leaders regarding The Greenlining Institute's current advocacy efforts. The public is invited to hear issue updates, challenges, and impact.
10:15am-11:45am – The State of the Majority: Making Sense of the Demographic Revolution

Visionaries from a variety of disciplines examine the implications of the changing demographics of California and the nation. When the Greenlining Institute was founded in 1993, communities of color were roughly 30 percent of the nation's population. Today that figure is 37 percent and rising, expected to pass 50 percent by 2040. People of color already make up 60 percent of California's population. How can policymakers respond more effectively and dynamically to rapidly changing demographics? How should public policy go beyond adapting to these changes and become more adept to harnessing the potential of diverse communities?
Moderator: Maria Leticia Gómez, News Anchor, Univision
Confirmed Speakers:
Carly Hare, Executive Director, Native Americans in Philanthropy
Judy Patrick, President & CEO, Women's Foundation of California
Phil Ting, Democratic Caucus Chair, CA Assemblymember
Daphne Kwok, Chair, President's Advisory Commission on Asian Americans and Pacific Islanders
Jamila Edwards, Northern California Director, Children's Defense Fund
12:00pm-2:00pm – Summit Lunch Program: Corporate Social Responsibility: Not an Oxymoron, a Necessity

For decades, advocates have worked to encourage major corporations to be responsive to the needs of communities they serve, and for decades, advocates have wondered if corporate social responsibility was nothing more than a slogan embraced by corporations because they "should". But now, America's evolving landscape has made corporate responsibility a business necessity. Not only do firms have to address a more diverse customer base, but those communities are increasingly connected and empowered. Engaging and responding to communities is no longer an option; aligning profit and progress is a necessity.
Moderator: Orson Aguilar, Executive Director, The Greenlining Institute
Confirmed Keynote:
Debra Reed, Chairman of the Board and CEO, Sempra
Confirmed Speakers:
Chris Johns, President, PG&E
Phillip Chang, CEO, Yogurtland
Jon Campbell, Head of Government & Community Relations Group, Wells Fargo & Co
Stuart Ishimaru, Director of the Office of Minority and Women Inclusion, CFPB
2:00pm-3:00pm – Social Break
2:00pm-3:00pm – Alumni Meeting (Vanderbilt Room)
3:00pm-5:00pm – Idea Lab: From People to Policy

Every important change in society began with an idea. Before democracy was a form of government it was an idea. Ideas have the power to transform the way we think and live. In this interactive session, led by award winning journalist Aimee Allison, we want to hear your ideas about the major issues affecting communities of color and how Greenlining's work can adapt to a changing America. Effective policy work cannot be created in a vacuum and must be informed by the stories, voices and ideas of real people. As we celebrate 20 years of work, help us define what the next 20 years should look like!
Moderator: Aimee Allison, Media and Community Affairs Director, SF Dept. on the Status of Women
5:00pm-6:00pm – Networking Break
6:00pm-8:30pm – Celebration of our 20 years

An exciting dinner and awards program celebrating Greenlining's 20 years of activism, remembering landmark events with the people who were there and honoring those who have made a difference.
Awardees:
Legacy Award:
Sheila C. Bair,  Former Chairman of the FDIC
President Michael Peevey, California Public Utilities Commission
Torchbearer Award:
Frankie Guzman, Academy Alum