"By the People for the People: Communities Creating Change"
April 20, 2012 • Los Angeles, CA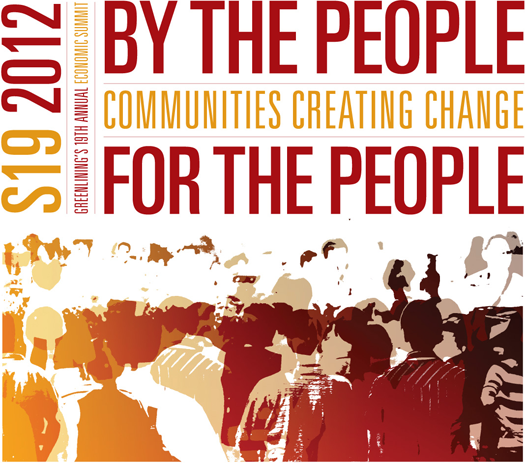 Leading into the 2012 election, we need working solutions now more than ever. At a time when our elected officials are paralyzed by the divisive politics of no, Greenlining will shift the conversation back toward yes, and show how new alliances of leaders across sectors are creating sustainable change. Our 2012 Summit explored new models that would align profit and progress, and make good on the American promise of opportunity and prosperity for all.
Keynote Speakers
Raj V. Date, Deputy Director, Consumer Financial Protection Bureau
Michael R. Peevey, President, California Public Utilities Commission
Tim Simon, Commissioner, California Public Utilities Commission
Robert Ross, President & CEO, The California Endowment
George Joseph, Founder & Chairman, Mercury Insurance
Mike Florio, Commissioner, California Public Utilities Commission
Assemblywoman Holly Mitchell, Chair, California Assembly Budget Sub-Committee on Health & Human Services
Awardees
Lifetime Achievement Award: Dr. Lula B. Balton, CEO Emeritus, West Angeles CDC
Big Heart Award: Dave Jones, Insurance Commissioner, California Department of Insurance
Big Brain Award: Catherine Sandoval, Commissioner, California Public Utilities Commission
Big Foot Award: John Chiang, California State Controller
Torchbearer Award: Josef Araya Tayag, Senior Analyst – International Health, ABT Associates
2012 Summit Panels
Breaking the Mold: Pioneering Leadership for a New Era
In today's divisive political climate, many Americans, especially youth, have lost faith in our leaders' ability to steer the nation toward prosperity. But leadership isn't something to be elected to, or nominated for. Leadership can, and must, come from everywhere, and it is incumbent on all of us to cultivate and celebrate its many forms. This panel will talk about the explosion of new forms of leadership, from revolutionizing an entire industry to something as simple as expressing a different point of view. It will discuss why every organization should include people who challenge the status quo, and what wins can come from breaking the mold.
Moderator
Michelle Romero, Program Manager – Claiming Our Democracy, The Greenlining Institute
Panelists
Susan Gonzales, Director of External Affairs, Facebook
Olis Simmons, CEO, Youth Uprising
Allen Fernandez Smith, President & CEO, Urban Habitat
Jay Costa, Program Manager, MapLight
Pia Infante, Director of Organizational Partnerships, Rockwood Institute
Arturo Carmona, Executive Director, Presente.org
Job Creation: New Models and Old Myths
Job creation is at the forefront of our national discourse, but few large-scale solutions have emerged to date. Some theorists believe the only way to decrease unemployment in the long term is through active government job creation. Others counter that the private sector and the free market is the silver bullet. Who's right? This panel will discuss innovative job creation models from the public, private and nonprofit sectors that are putting people to work today.
Moderator
Vien Truong, Director – Green Assets, The Greenlining Institute
Panelists
Assemblyman Steve Bradford, Chair, CA Assembly Utilities & Commerce Committee
Zixta Q. Martinez, Assistant Director for Community Affairs, Consumer Financial Protection Bureau
Stacie Olivares-Castain, Managing Director, California Organized Investment Network
Mina Pacheco Nazemi, Director, Credit Suisse
Jodi Pincus, Executive Director, Rising Sun Energy Center
Jason Trimiew, Managing Director, The Robert Enterprise Development Fund
Michael Bush, Founder & President, 8 Factors
Agents of Change: Leadership in Action
Modeled after the popular TED Talks, this segment will feature a series of dynamic leaders each telling their stories of leadership for positive change. Whether from the public, private, or community sector, these influential individuals will highlight not only their critical work to further the people's interests, but also their own stories of overcoming challenges along the way. Some may be familiar faces, some may not, but all are deeply inspiring. We are honored to provide them a platform in which to engage all of us in their groundbreaking work.
Moderator
Samuel Kang, General Counsel, The Greenlining Institute
Presenters
Jakada Imani, Executive Director, Ella Baker Center
Danny Vasquez, Social Enterprise Venture Partner, Legacy Equity Advisors
Mary Olivella, Chief Strategy Officer, MomsRising.org
Ian Kim, Director of Campaigns, Rebuild the Dream