"Coping with Crisis: Advancing Change"
April 3, 2009 • Los Angeles, CA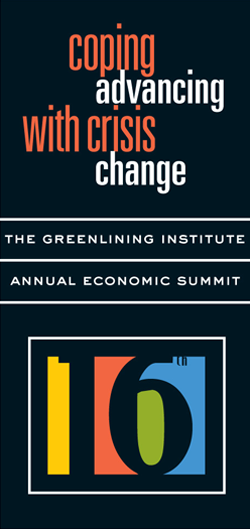 2009 is a time of great crisis, to be sure. But it is also a time of renewal… and as President Obama has said, a time to look forward, not back. Now is the time to advance the change and work towards the vision that brought us here in the first place. This vision consists of strong economic and healthy communities, health care for all, flourishing businesses owned by people of color, and energy independence that leads us to new economic opportunities for the new majority. There are among the issues being discussed at this year's summit and at the highest levels of decision-making about our nation's future. In a time of great crisis, Dr. Martin Luther King Jr. said: "History will have to record that the greatest tragedy of this period of social transition was not the strident clamor of the bad people, but the appalling silence of the good people." We will make sure our communities are heard.
Keynote Speakers
Phil Angelides, Chairman, Apollo Alliance
Richard Davis, CEO, US Bank
Randall Stephenson, CEO, AT&T
Dr. Robert Ross, President and CEO, The California Endowment
Awardees
Big Heart Award: Keith Kelley, Executive Director, Fresno West Coalition for Economic Development
Distinguished Leader Award: Honorable Ted Lieu, CA State Assemblymember, 53rd District
Big Brain Award: Earl "Skip" Cooper, Black Business Association
Big Foot Award: Martha Montoya, California Hispanic Chamber of Commerce
Torchbearer Award: Erik Paulino, La Unidad Latina Foundation
Lifetime Achievement Award: John C. Gamboa and Robert Gnaizda, Co-Founders, The Greenlining Institute
2010 Summit Panels
Jumpstarting the 21st Century Economy with Green Solutions for All Communities
Under President Obama's leadership, our nation is moving towards the next big transformation in our economy, by moving away from polluting industries and foreign oil, and investing in homegrown solutions like energy efficiency, renewable energy and cleaner industries. How can we build our Green Assets from within, transforming the economy by creating healthier, wealthier, sustainable communities?
Moderators
Samuel Kang, Managing Attorney, The Greenlining Institute
Tara Marchant, Program Manager, The Greenlining Institute
Panelists
Phaedra Ellis-Lamkins, Executive Director, Green for All
Honorable Felipe Fuentes, CA State Assemblymember, 39th District
Honorable Dian Grueneich, Commissioner, California Public Utilities Commission
Honorable Ted Lieu, CA State Assemblymember, 53rd District
Honorable V. Manuel Perez, CA State Assemblymember, 80th District
Mark Toney, Ph.D, Executive Director, The Utility Reform Network (TURN)
Beyond the Stimulus: Opportunities and Challenges in Reforming our National Healthcare System
Expanding healthcare is at the center of President Obama's agenda. Our state and national leaders often say that 'our healthcare system is broken,' but nobody is more aware of this than our nation's middle class and working poor, who are often both the least likely to have access to adequate healthcare, and also the most likely to live and work in unhealthy environments. Increased economic opportunities can lead to increased health opportunities, and vice-versa. Now is the time to create a holistic healthcare agenda that improves the quality of life for all Americans.
Moderator
Dr. Gil Ojeda, Director – CPAC, UC Berkeley School of Public Health
Panelists
Dr. Diana M. Bonta, Vice President – Public Affairs, Kaiser Permanente
Dr. America Bracho, President and CEO, Latino Health Access
Carmela Castellano-Garcia, Esq., CEO, California Primary Care Association
Sylvia Drew Ivie, Chief of Staff, Office of LA County Supervisor Mark Ridley-Thomas
Honorable Dave Jones, Chair, California State Assembly Health Committee
Dr. Robert Ross, President and CEO, The California Endowment
Sustaining and Expanding Homeownership: What Works? What Doesn't? What's Next?
The current environment presents an unprecedented opportunity for potential first-time homeowners living in America's low-to-moderate income communities. This panel will explore new and innovative approaches and standards for home lending within low-income communities and communities of color, as well as learn best practices from the current foreclosure prevention efforts.
Moderator
Preeti Vissa, Community Reinvestment Program Manager, The Greenlining Institute
Panelists
Brad Blackwell, Executive Vice President, Wells Fargo Home Mortgage
Jane Duong, Homeownership Program Manager, Mission Economic Development Agency
Glenda Gabriel, Senior Vice President of Neighborhood Lending, Bank of America
Ronald Martinez, Senior Loan Officer, Los Angeles Neighborhood Housing Services
Kevin Stein, Associate Director, California Reinvestment Coalition