"Three Decades of the Community Reinvestment Act: Is it Time to Expand it?"
April 25, 2008 • Los Angeles, CA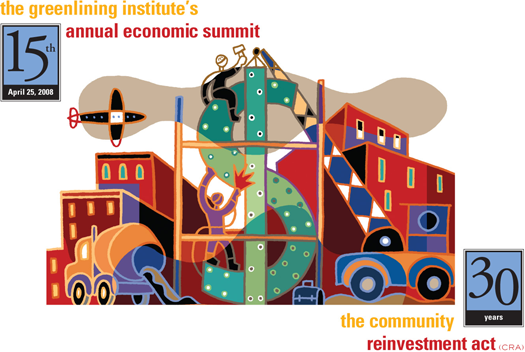 The Community Reinvestment Act (CRA) opened the doors for grassroots leaders to have collaborative discussions with CEOs of the largest banks in the world. CRA created the spirit of collaboration that led to many innovative asset building approaches we see today. How can we carry the spirit of CRA to other industries, some that have closed the door to diverse communities? A CRA approach can do much to create win-win partnerships with the emerging green industry, insurance companies, energy companies, law firms, telecommunications companies, biotech firms, and other industries. Although these industries are not bound by the law of CRA, they certainly can be moved by the spirit of CRA. Today's discussions will center on how we move non-bank entities into CRA like partnerships and how we can strengthen our CRA activities with our current partners.
Keynote Speakers
Sheila Blair, Chairwoman, FDIC
Robert A. McNeeley, Executive Vice President, Union Bank
Cynthia Amador, President and CEO, CHARO Community Development Corporation
Ivan Seidenberg, Chairman and CEO, Verizon
Awardees
Big Brain Award: Assemblymember Joe Coto, Chair, California Latino Legislative Caucus
Big Foot Award: Louise Perez, Executive Director, Community Resource Project
Big Heart Award: Faith Bautista, President, Mabuhay Alliance
Lifetime Achievement Awards

Ortensia Lopez, Co-Chair, The Greenlining Institute Board
George Dean, Co-Chair, The Greenlining Institute Board
Torchbearer Award: Lindsay Imai, Urban Habitat
2008 Summit Panels
Winning Initiatives for Change: Overview of Greenlining's 2008 Initiatives
Greenlining's Academy Fellows will provide participants with an interactive and multimedia experience on various issues affecting California's underserved communities. Topics include the environment, insurance, consumer protection, college affordability, and banking. The session provides a short but thorough overview of Greenlining holistic educational and advocacy campaigns for economic empowerment.
Moderator
Danielle Trimiew, Academy Director, The Greenlining Institute
Panelists
Elaine Braithwaite, Banking Fellow, The Greenlining Institute
Sasha Werblin, Sustainable Development Fellow, The Greenlining Institute
Kenechukwu Okocha, Insurance Fellow, The Greenlining Institute
Valeria Rosales-Fike, Higher Education Fellow, The Greenlining Institute
Joel Muratalla, Multimedia Academy Fellow
The Business of Building Healthy Communities: Expanding the Spirit of CRA to the Health Industry
Recent research reveals something that we have known for decades – your socioeconomic status determines how long you live and how healthy you will be. In fact there is a direct correlation between rising health disparities and rising gaps in economic inequality. Various health problems in our communities are thus related to issues of employment and overall socioeconomic opportunities. Health industries will play a growing role in determining what economic opportunities exist in California as corporations are drawn through tax-credits and university programs. This session will explore opportunities for health industries to invest in low-income and minority communities through win-win public-private partnerships.
Moderator
Kevin Barnett, Dr. P.H., M.C.P., Senior Investigator, Public Health Institute
Panelists
Carl A Ballton, President and CEO, The Union Bank of California Foundation
Ed Hernandez, O.D., Assemblymember, California 57th District
Zara Marselian, CEO, La Maestra Family Clinic
Profitable Pathways: How a Strategic Focus on Diversity Yields High Impact Results for Corporations and Communities
As more and more businesses are discovering, a true commitment to diversity has a direct, positive, and lasting impact on the bottom line. At this session, academic and private sector luminaries will showcase the ways corporations can increase profits, enhance their reputation, and become increasingly competitive while concurrently promoting economic empowerment in low-income and minority communities. Panelists will discuss such topics as supplier diversity, workforce diversity, pro bono legal services, and cultural competency.
Moderator
Thalia Gonzalez, Senior Legal Counsel, The Greenlining Institute
Panelists
Alfred E. Osborne Jr., Senior Associate Dean, UCLA Anderson School of Management
Clayton R. Lloyd Sr., Vice President and Executive Director of Supplier Diversity, Wells Fargo
Elena Baca, Chair, Paul Hastings' Los Angeles Office
Magda Yrizarry, Vice President – Workplace Culture, Diversity and Compliance in Corporate Human Resources, Verizon
Maureen P. Alger, Partner, Cooley Godward Kronish
Luis Diaz, Chief Diversity Officer, Gibbons
The Foreclosure Crisis and Future Opportunities to Close the Minority Homeownership Gap
California's economy, healthcare system, future educational opportunities and upward mobility for communities of color are all affected by the housing crisis in the United States and in California in particular. Government officials, financial institutions and community organizations have offered differing responses. This panel will seek, in part, to address an economic crisis that if not resolved, could lead to a depression, not just a recession, in some regions of California.
Moderator
Robert Gnaizda, Policy Director and General Counsel, The Greenlining Institute
Panelists
Faith Bautista, Executive Director, Mabuhay Alliance Inc.
Nativo Lopez, National Director, Hermandad Mexicana Latinoamericana
Eileen Newhall, Principal Consultant, Office of Senator Mike Machado
Landon Taylor, President of Strategic Markets, First American Title Insurance Company
Janet Lamkin, California President, Bank of America
Preston DuFauchard, Commissioner, California Department of Corporations
The Emerging Green Movement: How the Spirit of CRA Can Lead to Green Economic Opportunities
We take it for granted that our nation's recent attention to fighting global warming will reach all communities. Everybody, it seems, is going "green." Unfortunately, the question remains, "What role will California's 22 million minorities play in the fight against global warming?" Emerging green services – solar power, energy efficiency, and hybrid technology – are vital in our fight against global warming. But in many communities, essential "green" services are non-existent, especially for families living from paycheck to paycheck. Conventional approaches to tackling this challenge have focused on "trickle-down" economics and the assumption that everybody will benefit from our nation's adoption of green practices. While there are no quick fixes, this panel will explore meaningful ways of creating local and organic economic development models that work toward the goal of sustainability.
Moderator
Orson Aguilar, Executive Director Designee, The Greenlining Institute
Panelists
Ophelia B. Basgal, Vice President, Pacific Gas and Electric Company
Jim Gonzalez, Campaign Chair, Californians for Solar and Clean Energy
Phil Angelides, Apollo Alliance and Former State Treasurer
Adrienne Maree Brown, Executive Director, The Ruckus Society
Denise Hunter, President and COO, FAME Renaissance