Nonprofits in 2017 can slay the game on Twitter without the paid social media budget that many corporations have. I added "2017" in the title because digital media evolve constantly; a year from now, best practices may be different, depending on Twitter's ever-changing interface. However, as big corporations adapt to these changes quickly, so can nonprofits, and a bunch of us in the nonprofit sector can make sure we're formidable advocates and changemakers in this digital era by supporting each other. Here are nine tips your nonprofit can implement now – without cost – to maximize your impact on Twitter.
1. Get "Verified" on Twitter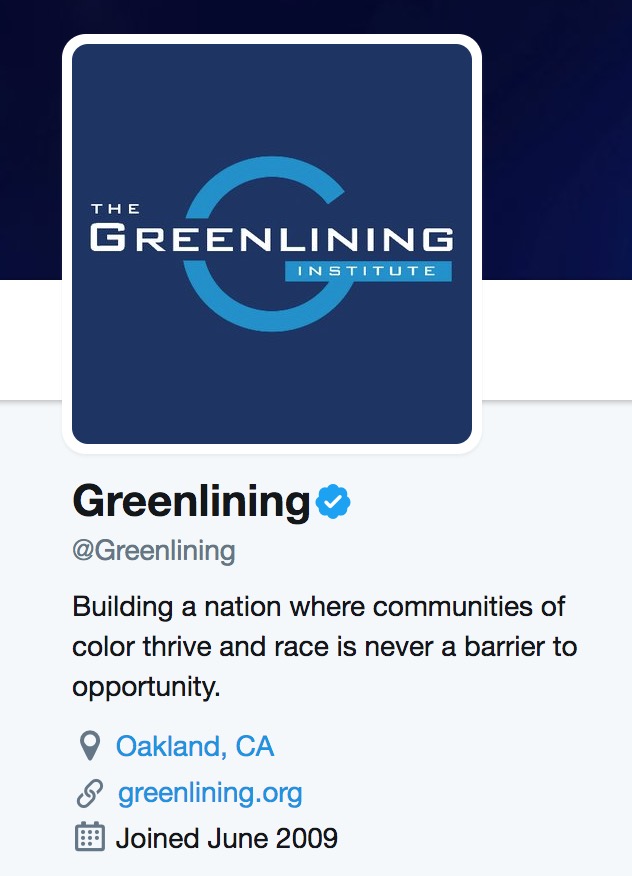 Having that blue checkmark right next to your nonprofit's name have brand advantages:
It makes searching and following you easy because your prospective follower will be 100% sure that you are the organization he/she wants to follow. This especially matters for organizations whose name or handle may be similar to Twitter accounts not associated with them.
Users will be confident that you are a credible source of information on your topics of expertise. The blue checkmark allows public figures to tell the world that a specific account is their own.
You can apply for Twitter verification here.
2. Use Link Shorteners with Caution
Link shorteners like owl.ly and bit.ly can be appealing as they replace long urls and unclutter your tweets. They even allow you to customize your link to reflect your page's title and content.
The problem with these link shorteners is that they distort your Google Analytics acquisition data. Google Analytics can track where a visitor came from: social media, your email blasts, or from another website. Without knowledge of UTM parameters to track acquisition correctly, link shorteners by default do not register proper sources, and instead categorize the clicks to a source called "direct" which is basically "a source Google Analytics can't specify." This can hurt your digital performance because acquisition data helps in executing and evaluating an effective digital strategy.
Keep in mind that links in tweets, shortened or not, count as 23 characters, so shortening links won't help you get around Twitter's character limits. If you still love link shorteners but want better Google Analytics data, shorten links that include UTM parameters. To learn about UTM parameters, click here.
3. Add Your Link at the End of Tweets
Twitter is a great tool to drive traffic to your site. If your tweet's goal is to drive traffic to a website, add the link at the end of the tweet right after your copy and any hashtags you have. This removes the url from your tweet when published and creates an ad-like image that users can click on to go to your site. Called link previews, these ad-like images appear most of the time you have a link on your tweet (it depends on the site, too — more on that in the next section). Keeping the link at the end of your tweet gives you a cleaner and more professional post ready to drive traffic to your site.
Example 1: Link not at the end of a tweet
As you can see, the tweet above creates a link preview but keeps the link on the tweet.
Example 2: Link at the end of a tweet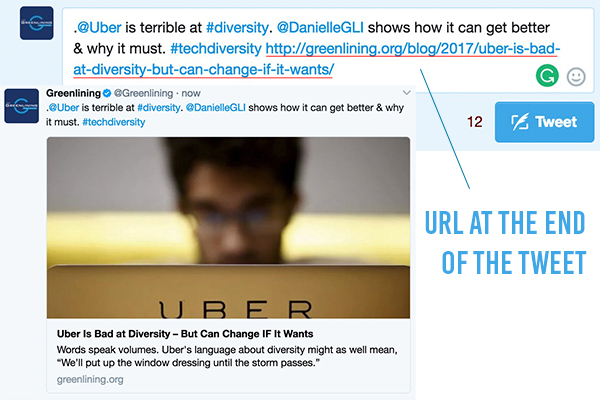 Here, the tweet creates a nice link preview but removes the link from the post, making the tweet easier to read, giving clear direction on what the user should click next.
4. Optimize your Link Previews
Social media link previews have three elements that are big determinants whether or not your reader will click on your link: the image, the headline, and the short description.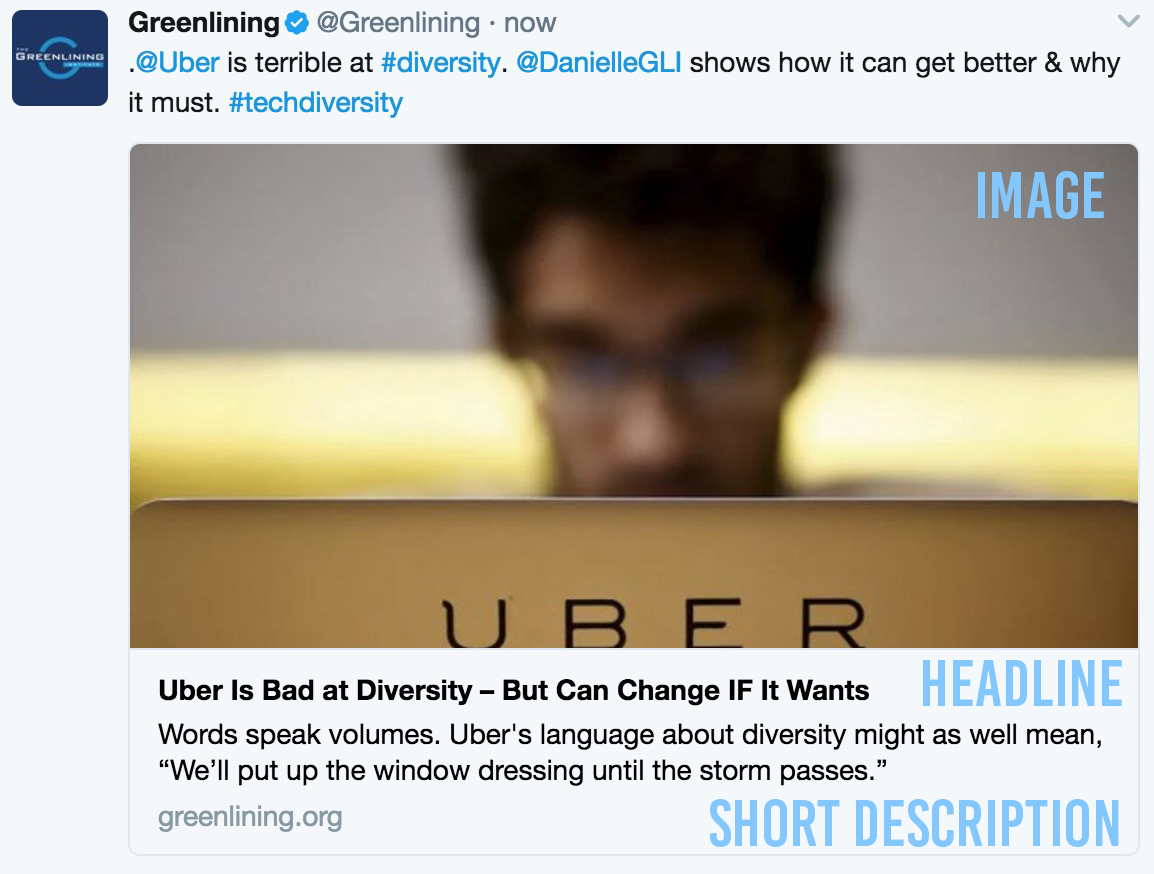 Think of the link preview as an extension of your tweet and an ad for the page on your site that you want to drive traffic to. Choose an image, headline (usually your website's title page), and short description that will make readers want to read more.
Twitter doesn't allow you to customize link previews before so you have to set it up from the back end of your site. If you don't have this feature installed on your site, work with your developer to install it so you can easily change your social link previews every time you create or edit a page. At Greenlining, we installed the Yoast SEO WordPress plugin to do this and here's what it looks like:
Make it a practice to customize these link previews every time you post new content. Link previews drive more attention to your tweets with their images. When a user clicks the image out of curiosity, BAM, they land on your site.
5. Say More Using Custom Images
Resistance works #TrumpcareFail pic.twitter.com/ksJ5ZO7oUS

— Greenlining (@Greenlining) March 24, 2017
Studies prove that images on tweets increase engagement rates. Images can be extensions of your tweets when you've run out of characters. Adding text on the images allows you to say more without worrying about Twitter's character limit. Unless you're driving traffic to a website, you should use images on tweets as much as possible to amplify your message. You don't need to be an experienced graphic designer to create these images. Simply use free services like Canva or Pablo to design professional images that will boost your engagement rates.
Note: If your goal is to drive traffic to a site, don't attach images because attached images override link previews. Clicking on an attached image does not direct a user to your page so you're better off using link previews for website traffic campaigns. For engagement campaigns, use images. For website traffic campaigns, use link previews.
6. Use Twitter search to scope relevant keywords, hashtags, and influencers
You don't need an expensive public relations service to find influencers or conversations relevant to your campaigns. Although cumbersome, Twitter search is free. Manually searching a keyword will get you a list of recent and top tweets that can provide you with valuable information like news related to your keyword, trending hashtags, other keywords people are using with your searched keyword, and users with large followings who may share your content.
You can use this information to craft your tweets with trending keywords and hashtags, and to engage with influencers or reporters to earn media through retweets or coverage.
If you want to take it to the next level, here are 11 ways you can use Twitter's Advanced Search to maximize your strategy.
7. Search For Yourself to Monitor Your Brand
A lot of services will charge you a lot of money to monitor what people are saying about your brand on social media. While those tools can save you a lot of time, nonprofits that can't afford these services can still monitor their brand on social media, especially on Twitter.
I call these the three essential brand monitoring searches: your Twitter handle, your organization's name (and alternative names like acronyms), and the url to your site.
Searching your Twitter handle will provide you with tweets that mention you. You get notification alerts for tweets that tag you, but Twitter doesn't alert you when a user mentions your organization name without your Twitter username — mentions that you should still respond to.
Attending the Greenlining Institute's Grand Opening Event. @UnionBank a proud supporter and sponsor! #Greenlining360 pic.twitter.com/WTjxCYXBnO

— Lana Gosnell (@lanagosnell) February 10, 2017
Searching your website's url on Twitter provides you tweets that share any of your website's pages, allowing you to follow up with users who already find your content relevant to them.
The 10 Stages of Diversity Advocacy in GIFs https://t.co/j2mZKt8kcY

— Bobby Dalton G. Roy (@xpo125) April 2, 2017
8. Send Toolkits to Your Staff and Allies
Your staff and your allies are your best brand ambassadors. When distributing content, provide your staff and allies with sample tweets they can use to post on their social media accounts. Include sample tweets on your email blasts to connect your social media and email marketing strategy. Save your staff and allies time by creating links that automatically tweet for them like this:
Click to tweet this: 9 tips by @conradc @greenlining to step up your nonprofit's Twitter game. #socialmedia http://greenlining.org/blog/2017/9-twitter-tips-nonprofit-2017/
I created the link above using Click To Tweet, another free service!
9. Create A Twitter List for your Team
You can find Greenlining's list of advocates and Twitter users here. Having a public list can help your audience find a direct contact for a specific topic they're interested in. It also helps your staff build their audience. Your staff's presence on Twitter is just as important as your organizational account's presence.
That wraps it up, folks. Now more than ever we need to support each other and build the tools needed to advocate and resist for our communities.
If you have any questions or want to connect, email me at conradc@greenlining.org and let's continue the conversation.
Conrad is Greenlining's Communications Manager. Follow him on Twitter.