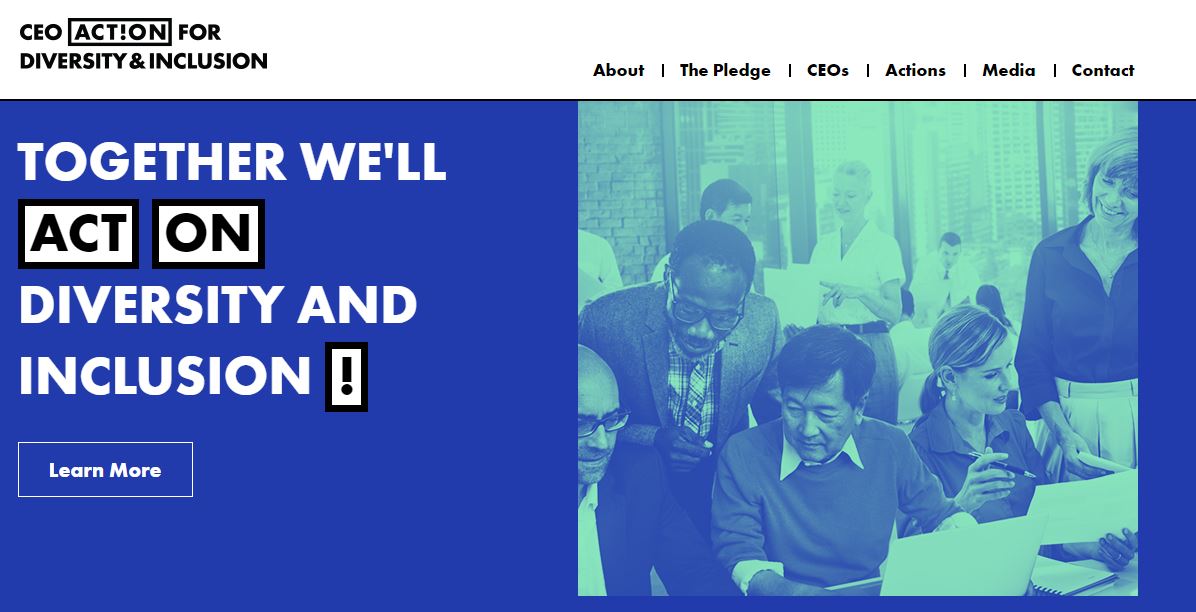 Skim through any article on diversity, and I bet you nine times out of 10 the phrase "commitment from leadership" will appear. Research far and wide, including our own, cites this best practice as a critical component to creating authentically diverse workplaces. That's because the tone — for anything, diversity-related or not — gets set at the top.
In an unprecedented move, 150+ executives from the nation's most powerful corporations banded together and just launched CEO ACT!ON to "advance diversity and inclusion within the workplace." The website reads, "This commitment is driven by a realization that addressing diversity and inclusion is not a competitive issue, but a societal issue. CEOs recognize that change starts with them."
I'll admit, at first I was skeptical. Leadership commitment is critical, but we all know the "diversity and inclusion world" is mostly fluff. There are plenty of feel-good videos, glitzy websites, and high-profile initiatives like the White House Tech Inclusion Pledge that haven't amounted to much.
Upon perusing the site, however, my skepticism was quickly challenged.
Instead of generic language attributed to no one, I saw the names of individual CEOs at major companies.
Instead of a vague commitment to diversity, I saw a detailed pledge dedicated to 1) courageous conversations, 2) education about unconscious bias, and 3) sharing lessons learned on best — and unsuccessful — practices.
Instead of a "one size fits all" approach, I saw a robust database of case studies you can filter by company, issue, and/or industry.
Of course, CEO ACT!ON isn't perfect. Including measures to promote accountability — like data, goal setting, and funding — would provide this work some real teeth. Nevertheless, this marks a critical milestone for companies seeking to become truly reflective of, attuned to, and invested in communities of color. This pledge also serves as a powerful tool for stakeholders to hold companies' feet to the fire, ensure they walk the talk, and produce tangible results.
It's still far too early to tell what this CEO ACT!ON will become, but I can say for certain that I remain cautiously optimistic. Corporate America took the first step by taking this pledge. Now it's up to the rest of us to make sure we use this momentum and keep the ball rolling.
Use #CEOAction on Twitter to stay up to date on the campaign and tell these companies why diversity is important to you.
Danielle Beavers is Greenlining's Director of Diversity and Inclusion. Follow her on Twitter.