"Those who are already feeling the effects of climate change don't have time to deny it — they're busy dealing with it." – President Obama
Thousands of environmental justice and equity organizations are fighting on the frontlines against environmental and climate injustices, and have been doing so for decades.  From fighting drought-induced food insecurity in Ethiopia to planting trees to provide shade and capture carbon in Oakland, California, communities of color have had no choice but to survive and innovate against the impacts of climate change.
Well over 60% of blacks and Latinos in California say air pollution is a problem and the effects of climate change have already begun. Over 70% support stronger climate policies, with Latinos polling at over 80%. These communities do not have time to deny climate change – they're busy dealing with it.
California's rece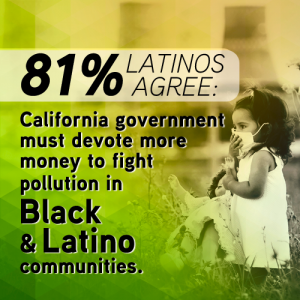 nt attempt to pass its strongest climate package in history experienced setbacks when legislators who represent underserved communities opposed stronger climate action. Ultimately, California was able to maintain the legal authority needed to reach all climate goals, however, the political debates highlight a serious concern for underserved communities – Do the politics represent the people?
Some issues raised by legislators are valid. Climate policies must lead with equity and prioritize the communities most impacted by environmental destruction and climate change. These priorities cannot take shape as an afterthought or as part of strategic politics to garner votes.  Vulnerable communities must be the primary focus of any piece of climate legislation.
But overwhelmingly, legislative concerns about climate policies – both federally and at the state level – are peppered with invalid smokescreen arguments that rob the political process of important stuff like democracy and facts.  Uninformed and disconnected politicians argue that climate action would disrupt the economy and hurt poor people by raising the cost of gas. In fact, the policies would help reduce the air pollution causing abnormally high asthma rates among children of color and would provide new clean energy job opportunities, low-cost transportation, and clean energy technologies for frontline communities. The policies will save low-income communities money "at the pump" and on utility bills.
Representatives must hear the call of a mobilized base of communities of color to protect the health of communities, not the health of polluter profits.  Frontline communities will no longer be the dumping grounds for the fossil fuel industry; these communities own the climate movement and, with political support, will prosper from the transition to a sustainable and clean environment.
Join the millions already fighting – from Bangladesh to Brooklyn to the Bay Area – by actively promoting policies that direct resources to frontline communities to help improve air quality and prepare for the impacts of a changing climate.  Prioritize affordable housing, green jobs, healthy communities, and access to clean technologies. Create laws to ensure that the communities that have contributed the least to this mess are creating and benefiting from the next generation of climate solutions.
This is your legacy. This is the future of America's new majority and, therefore, the future of America. Let the voices of millions be heard through your political leadership. These communities do not have time to deny climate change – they're busy dealing with it.
Will their elected officials stand with them?