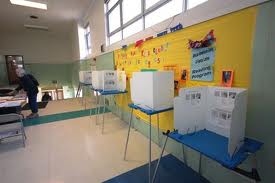 Tomorrow is primary election day in California, and as I write this, Greenlining's Claiming Our Democracy team is winging its way to L.A., where our folks will be working with staff from the Los Angeles County Registrar-Recorder's office. Tomorrow they'll go out to precincts around the county to speak to voters – especially voters whose first language isn't English – to find out how the voting process is working for people in the real world. Keep an eye out for the results of that important work in the coming months.
This has been a pretty low-key election, and officials are predicting an "embarrassingly low turnout," with less than one third of eligible voters casting ballots. Yikes.
So to everyone reading this: Vote!!!! Even in years without high-profile races and piles of campaign commercials, voters have important decisions to make. And remember, under California's primary system, only the two candidates with the most votes make it to the November general election ballot, regardless of their party. So whether you're a Republican, Democrat, Green or Libertarian, there is no guarantee that a candidate who shares your basic philosophy will be on the ballot in November unless you get out and support them June 3.
If you're not sure where your polling place is located, you can look it up here.