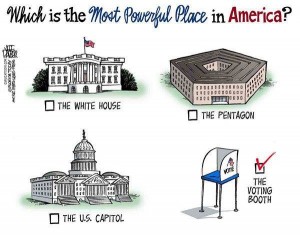 This year, Californians will have the power to choose the person who oversees the heart of our democracy – the right to vote! That person is called the Secretary of State. The Secretary of State serves as the chief elections officer, overseeing elections across California. He or she actually has a lot of power, and when our communities still face many obstacles to their right to vote because English is not their first language or they have a disability, we need to make sure the Secretary of State addresses these structural barriers.
On May 6th in San Diego, we are co-sponsoring a Secretary of State Candidate Forum with the ACLU, California Common Cause, and League of Women Voters. This is a great opportunity to meet the candidates vying to be the state's top elections official. We hope you'll join us for this free event.
Date: Tuesday, May 6, 2014
Time: 6:30 PM to 8:30 PM
Location: The Jacobs Center for Neighborhood Innovation
404 Euclid Ave, San Diego, CA 92114
Register here to attend the forum.

In March, more than 200 people gathered for the first California Secretary of State Candidate Forum and the event sparked a great statewide Twitter conversation, not to mention it was completely sold out!
You can join the conversation by tweeting your questions or comments to #myvotemySOS and #CASOSrace. Hope to see you in San Diego!