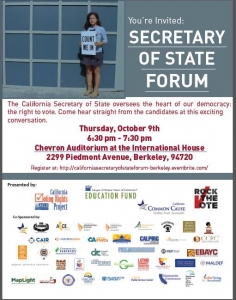 Tonight is the last public candidate forum scheduled for the California Secretary of State race before voters go to vote in November. The forum will be held at UC Berkeley's Chevron Auditorium tonight from 6:30pm-7:30pm. With so much at stake, you won't want to miss this opportunity to learn about the candidates' plans to increase voter registration in California, improve turnout, and reduce barriers for voters of color.
I'll be joining Jidan Terry-Coon of Mobilize the Immigrant Vote and Morgan Prentice of California Common Cause of Berkeley on a community panel, to ask the tough questions about how each candidate plans to serve our communities.
For example, what about formerly incarcerated communities? They have the right to vote, but most of them don't know about it. How will these candidates respond to the confusion and misinformation out there about people's right to vote, and work to ensure that every eligible voter can participate in our democracy?
How will they work to close the voter registration and participation gaps in communities of color? Asians and Latinos trail 10-20 percentage points behind whites and blacks in registration alone. Certainly, business as usual won't be enough to close the gaps.
And let's not forget the youth. We need innovative thinking around how to engage young people in our democracy and make the issues relevant to their lives.
How can you get involved?
Join us at the forum! Just a few seats left, reserve yours here. If you have a question for the candidates, you can tweet your questions to #myvotemySOS. A few questions will be chosen from twitter.
Follow me on twitter at @michelledreams2 for live updates from the forum and use #myvotemySOS to join the conversation. If you can't come out to Berkeley for the forum, tune in to the livestream which begins at 6:30pm at bit.ly/1sfdU1z .