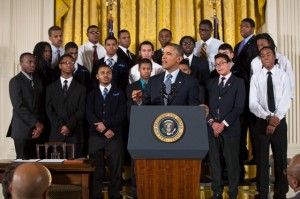 Last week I had the pleasure to attend and speak at the Advocates for Health, Economics and Development (AHEAD) Conference, where advocates, regulators, business representatives, and other stakeholders came together to discuss opportunities to increase our health workforce while addressing issues of health and health care costs.  At the conference we had the honor of hearing from Assemblywoman Shirley Weber (D-79), who highlighted one of the major barriers to employment for communities of color, and more specifically our boys and men of color: the cradle to prison pipeline and lack of resources to help those who have been released from jail or prison find gainful employment.
Here at The Greenlining Institute we have been advocating for solutions to this problem and working with our colleagues to reduce barriers to employment and provide access to public assistance so that the formerly incarcerated have the means and the opportunity to get their lives back on track. Luckily, our legislators in California are listening: Just last week, Assemblymembers Jones-Sawyer (D-59) and Ammiano (D-17), co-chairs of the Select Committee on Justice Reinvestment, sent a letter to legislative leaders to call for the end of the lifetime ban on public assistance for the formerly incarcerated trying to build a new life.
While we have begun to identify solutions to ending the cradle to prison pipeline and reducing barriers to employment, a lot of education still needs to occur in order for our policymakers and the public to understand the importance of addressing these issues. For too many it is easy to brush off the issue as an isolated problem for those who choose to commit crimes. But we know, and have highlighted in a recent report, that the problem is much more complicated. And ultimately, preventing ex-offenders from re-entering society hurts us all.
To help with this education, COLORLINES has launched a new campaign, "Life Cycles of Inequity: A Series on Black Men." Throughout 2014, each month COLORLINES will publish content on the social inequities that black men face in America. The series begins with a video of 8 young black men talking about how they deal with implicit bias and racism in the classroom.  Please share this video with your networks and help create dialogue in your community about why it is so important for us to change to the frame in how we talk and think about our young black men.
Even the White House has gotten involved in this issue by launching its My Brother's Keeper campaign. You can help influence the discussion by participating the Summit for Educational Excellence for African Americans, happening in Oakland June 13th and 14th and put on by the White House Initiative on Educational Excellence for African Americans and Ebony Magazine. As President Obama has said: "There are a lot of kids out there who need help, who are getting a lot of negative reinforcement. And is there more that we can do to give them the sense that their country cares about them and values them and is willing to invest in them?" Help us invest in our youth!