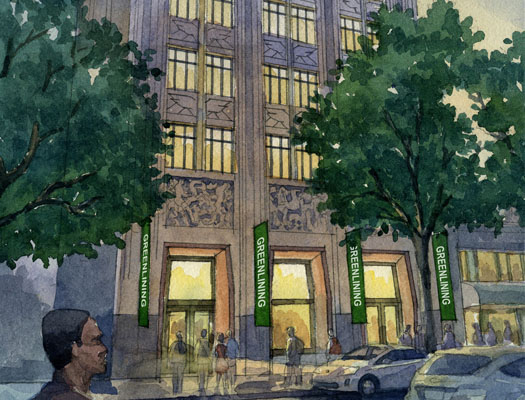 The Greenlining Institute sought to create a model of equitable growth and anti-displacement by reclaiming, revitalizing, and transforming an 85-year-old, failed bank building at 360 14th Street in the heart of downtown Oakland.
RECLAIMING
Our vision is not limited by the walls of this building. We've turned a semi-abandoned structure into a flourishing, energy-efficient nonprofit center built with local, minority-owned businesses. This is not just another building with nonprofit offices, but rather an ecosystem that fosters collaboration among those who want to build equitable economic models that fight displacement.
REVITALIZING
Being in the heart of Oakland is central to our vision. Oakland, with its diverse population and innovative community leaders actively working to address the many problems we face, is where all these challenges and opportunities come together.
TRANSFORMING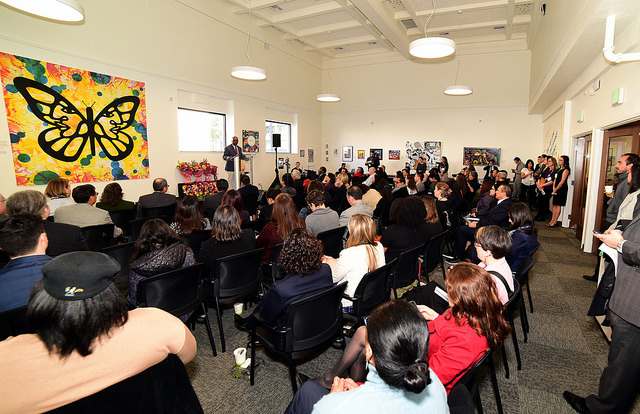 This new space includes:
7,500 square feet of office and work-space for nonprofit organizations that will be assured of permanently affordable rent.
7,500 square feet for Greenlining's 45-plus staff members, including members of our nationally recognized Leadership Academy.
8,000 square feet of art and community space for meetings and events to foster collaboration and develop innovative ideas for reducing the growing inequality in our nation.
A place where local diverse artists can showcase their art to a larger audience.
Please join our efforts by donating here. For more information about Greenlining 360, how you can help, or to review the formal Greenlining 360 proposal, please contact Janine Macbeth or janinem@greenlining.org.
Funders and Financing
It took a village to get this project off of the ground.
We recently wrapped up our financing with tremendous help in the form of a $10 million New Markets Tax Credit allocation made possible by New Markets Community Capital, a TELACU company, and Capital One. Our great new neighbor, Beneficial State Bank, provided critical gap financing. The San Francisco Foundation provided the "icing on the cake" with a Program Related Investment (PRI).
We sincerely thank the courageous first set of supporters who offered generous grants to kick off this project.  They include Wells Fargo Corporation, The William and Flora Hewlett Foundation, Pacific Gas & Electric (PG&E) and First Republic Bank.
Greenlining is seeking the support of other generous donors who can help us write-down our remaining debt. Support us by making a contribution today!